According to Samir "Mr. Magazine" Husni, 790 new magazines went to press in 2016, and as integral as the editors who write the words in these and the countless other magazines are the designers and production specialists who bring them to life.
Increasingly, however, production and creative directors are being asked to do more — Folio:'s annual salary surveys indicate that a gradually shrinking pool of respondents reports working, on average, more hours and managing more employees — while earning less. Respondents identifying as creative, art, or design directors report a median base salary of just over $67,000 in 2016, down 8.3 percent from 2015. Similarly, production directors report a median base salary of $82,000, down 7.1 percent from 2015.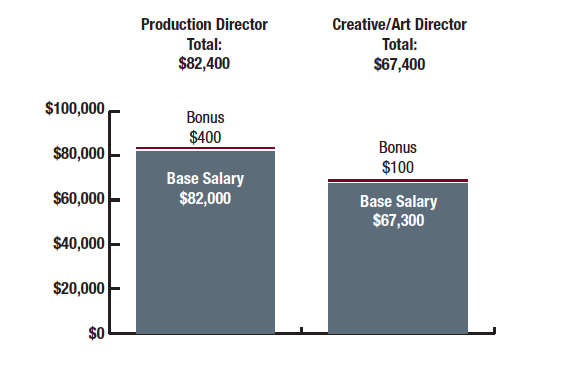 On the production side, workload continues to be a major determinant of compensation. Production directors who work more than 40 hours per week make 23 percent more, on average, than those who work less than 40. Unlike editorial salaries, production salaries do not appear to be significantly impacted by region, experience, or tenure.
This is not the case for art or creative directors, who report a median base salary of $88,000 at magazines in the Northeast, and around $60,000 elsewhere. Similar to production directors, though, art directors who work more than 40 hours per week make 16.4 percent more, on average.
In an encouraging trend that stands in contrast to last week's editorial salary survey, gender appears to far less impact on compensation than in years past — on both the art and production sides. Male creative directors make just 0.6 percent more than their female counterparts, according to the survey, with male production directors earning 2.4 percent more.
Click through the slideshow for a detailed breakdown of the results, or simply click the thumbnails below.
---
Categories with a statistically insignificant number of respondents, such as production directors at special interest magazines, are marked with a –.
Methodology

Data for the 2016 Folio: Editorial Salary Survey was collected via online survey over a period of three months in 2016 in conjunction with Readex Research, who tabulated the results. In total, 1,060 magazine media professionals completed the 41-question survey. The margin of error based on the tabulated responses is +/- 3.1 percentage points at the 95 percent confidence level.
See part one: the Folio: Editorial Salary Survey.