Art Director

After plateauing at just over $60,000 from 2009 to 2011, art directors saw salaries rise for the second year in a row. A year-over-year increase of 6 percent put average compensation at $70,700.
Unlike the production department, pay for art directors wasn't closely tied to company or publication size. Salaries at businesses with more or less than $10 million in revenue were separated by just $2,600; those working for magazines with more than $3 million in revenue earned only $8,100 more than those at smaller publications. Both gaps were lower than historical averages.
Gender was another non-factor, as it had been for the last five years. Female art directors reported making $1,500 more than men in 2013.
Industry experience was the largest differentiator in pay. Art directors with at least 20 years in the business earned 34-percent more than those with 10 to 19 years of experience, and 22-percent more than those with less than 10 years.
Similarly, art directors over age 40 made 26-percent more than their younger colleagues.
Experience in a given company or role mattered significantly less however.
Geography became a bigger factor than it had been in the past—at least at the ends of the spectrum. Art directors in the Northeast earned $24,200 more than those in the Midwest, while the historical gap had been under $20,000. Buoyed by modest raises this year, salaries in the South and West fell in line with past averages, separated from the Northeast by about $15,000.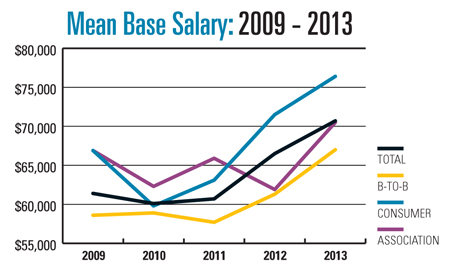 Meet the Author
---