Art and Production Salaries Remain Flat in '09

But the many respondents think salaries will decline 10-19 percent from '08.
Even though most publishing salaries are in turmoil this year, art and production staff appears to have gotten through the worst relatively unscathed, according to the 2009 Folio: Art and Production Salary Survey, conducted by Readex Research. Consumer and b-to-b production directors saw an incremental decrease in mean salaries from 2008 to 2009, down from a slight reprieve in 2008, while association directors are anticipating another incremental mean salary increase.
In addition to their print duties, many production directors report taking on all digital media, Web and digital publication responsibilities. This could be one of the reasons why the age of production directors has also moved away from the 45-54 range. While 38 percent of directors were in this age range last year, only 25 percent report their title as director-level, with slight increases for each of the younger brackets. Those working in the Midwest and West have seen a small boost in salaries since last year, while those working in NYC report a decrease of $3,600, from $93,300 to $89,700.
Not only have salaries been impacted on a demographic level, but director-level execs have also experienced a change in responsibilities. One verbatim noted "ad generation" and "new revenue creation" as additional responsibilities, while another listed "event planning" as part of the job description.
Over half of each group surveyed—production execs, production managers and art directors—expect salaries to remain flat in 2009, with 52 percent of execs anticipating steady mean salaries as compared with 34 percent in 2008. And according to those surveyed, mean salaries will decrease the highest amount—10-19 percent—for all of the groups.
Production managers experienced flat mean salary levels, with those at association publications experiencing incremental growth across the board. Similar to association production directors, association production managers and association art directors also anticipate a salary increase of $1,000 or so.
Both managers and directors reported taking on additional responsibilities since last year. The percentage of execs with more responsibilities grew to 86 percent from 77 percent last year, while the percentage of production managers grew 10 percent from 68 to 78.
Art Directors: More Work, Same Pay
Art directors, like production execs, saw an incremental decrease in salaries, from a boost in 2008. Those art directors at paid-only publications did experience a drop in salary, from $74,200 to $68,300, as well as those who have spent less than five years at their present company ($62,200 to $58,500 in 2009). Even with this drop, this group is continuing to take on "design of marketing materials and Web site," said one verbatim, as well as "SEO and research," said another.
Despite additional responsibilities and the challenge of "meeting deadlines," as cited in number of verbatims, a relatively small number of art directors cited working more hours in this year over last.
The percentage of art directors working on paid publications versus controlled publications has also decreased this year. In 2008, 30 percent of art directors reported working on paid pubs, while in 2009 only 23 percent say this.
Both controlled publications, and a mix of both increased for this group since last year.
As for the most rewarding part of their positions, art directors were mixed. One verbatim said that "Finishing projects and having something in hand, always changing—software updates, wrangling people to finish a project."
For ADs, the divide between legacy and digital design still runs deep. While for some "producing a magazine and seeing it every month" is an incentive, yet another verbatim cited "the creative aspect work in new programs. I enjoy creating virtual teardowns using Flash."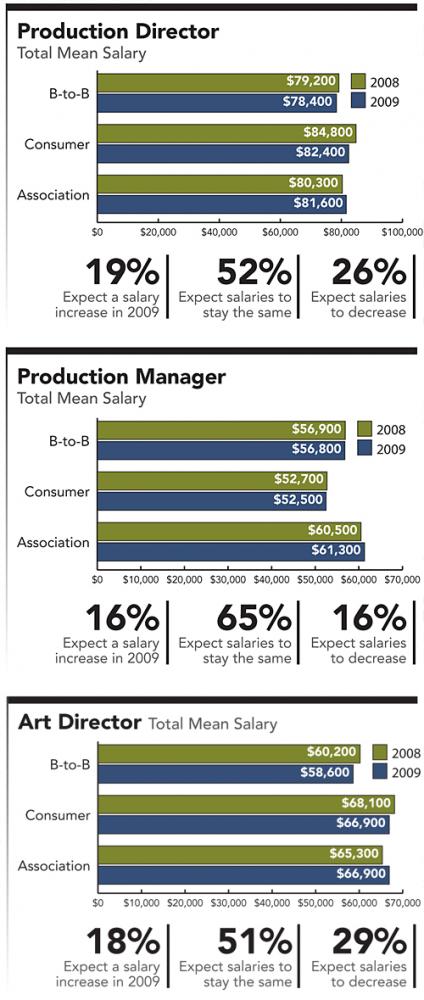 Meet the Author
---