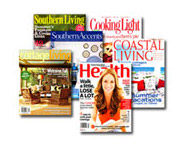 Following months of speculation about potential cuts at Time Inc., the company today confirmed layoffs have been made at its Southern Progress division.
Laura Hardin, a spokesperson for Southern Progress, told FOLIO: the layoffs included a variety of positions across its various titles. But a source at the company said the editorial and accounting departments were hit the hardest. The staff was informed of the cuts yesterday.
Hardin declined to specify the number of layoffs. A source with knowledge of the company's operations put that number "around 30"—corroborating, it would seem, a blog report on  Birmingham Weekly's Web site.
Time Inc. has been long-rumored to be dangling Birmingham, Alabama-based group for a potential sale, while talk of a spin-off of the Time Inc. division itself has also been bandied about. Southern Progress publishes seven magazines—Southern Living, Cooking Light, Health, Southern Accents, Cottage Living, Coastal Living and Sunset—and has roughly 1,000 employees.
"Of course we're sad to be losing good people," Hardin said. "It was an unfortunate but necessary decision based on challenging economic conditions in our industry."
'Tough to Grow Revenues'
It's unclear whether or not this round of layoffs is tied to Time Inc.'s reported two-year strategy to steer the mega publisher through the economic downturn. CEO Ann Moore Moore recently told the Times of London that "it will be tough to grow revenues" in 2009 but that she's aiming to increase net profit. Ad revenue during the second quarter was down nearly 10 percent, the report says.
Time Inc.'s Publishing revenues were down 6 percent in the first half. Digital, which accounts for roughly 15 percent of Time Inc.'s overall business, is not expected to hit the 53 percent growth target for 2008, the company said.
Like most of the consumer magazine industry, Southern Progress' titles have been struggling to maintain their print advertising. Through the first nine months of the year, Cottage Living's ad pages fell 9.1 percent, while Southern Living (down 11.3 percent) Health (-12 percent) Cooking Light (-19.3 percent), Sunset (-23.5 percent) and Coastal Living (-27.9 percent) all showed double digit declines, according to the Publishers Information Bureau. Only Southern Accents (up 9.9 percent) registered an increase in ad pages.
Southern Progress recently named Eleanor Griffin vice president and editor-in-chief of Southern Living magazine, replacing John A. Floyd, who retired after 18 years at the top editorial slot.