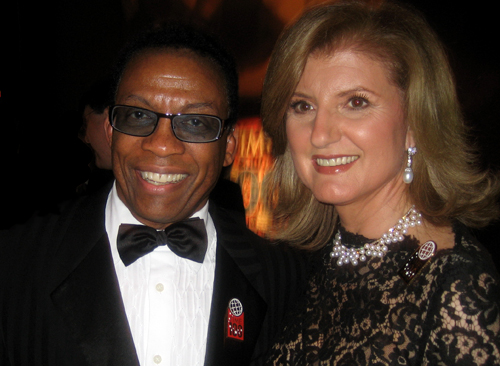 Huffington, with (presumably) one of her unpaid bloggers (Herbie Hancock), in 2007
NEW YORK—When Syracuse University's Newhouse School announced that it would be giving a lifetime achievement award at the Mirror Awards to Arianna Huffington, founder of the Huffington Post, for her contribution as a journalist to the profession of media, there was immediate criticism. Huffington, after all, has been widely criticized for not paying bloggers.  Via Romenesko:
Syracuse University's S.I. Newhouse School of Public Communications should know better than to honor a woman—Arianna Huffington—who thinks journalists should work for free, writes Simon Dumenco. It's one thing for a j-school to draw attention to itself by creating a self-referential journalism-about-journalism award, he says, referring to the Mirror Awards. "But it's quite another thing to give recognition to people who damage the very profession of journalism."
Yesterday at a luncheon packed with an impressive list of journalists (most of whom, presumably, are paid), Huffington fired back, answering her critics and offering some criticism of her own—aimed at the newspaper industry.
"We pay journalists, we pay our editors, we pay our reporters," Huffington said. "Most of our bloggers, they come and go." Bloggers, she said, often "have other jobs."
Huffington's distinction between "journalists" and "bloggers"—in the case of HuffPo, often celebrities and personal friends of Arianna—while odd, made sense.
"Arthur Schlesinger faxed me his blogs," she said. "It didn't matter how we got them—the goal was to get those voices online. "That was my dream, to give voices to many people."
Huffington then turned her attention to newspapers.
"The other criticism is that I've killed newspapers," Huffington said. "I've had a lot of help from Craigslist … the recession, this disruptive technology known as the Internet."
The industry must adapt, she said, "otherwise we can become like Detroit."
"[This] conversation should shift from how to save newspapers to how to save journalism," Huffington said. "There have been far too many autopsies, and not enough biopsies."
But Huffington, who referred to herself as "a little Greek peasant girl," said she still believes newspapers will be around for awhile.
"I don't believe the obits," she said. "We were on vacation, I didn't want to pass our laptops around and get marmalade on them. As long as our generation is alive, there will be newspapers."
[PHOTO: FOLIO:]