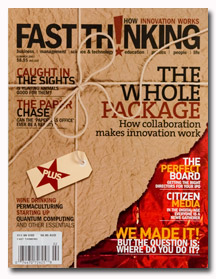 I bought this magazine a few months ago at the Barnes & Noble in Clarendon, Virginia, intending to write about the Australian business quarterly. Oh, I might have made one of my typical snotty comments—something along the lines of how fast can Fast be if it only publishes four times annually—but I thought the design was pretty strong. Then I noticed that this actual issue dates from nearly a year before I bought it, making it a bit musty to write about. I hadn't credited the persistent rumors that Australia dumps its out-of-date publications on the U.S. market. Now I have no doubt.
The cover is still worth a post, though because it falls into a small but venerable tradition in publishing—the Trompe-l'oeili cover. This cover is meant to look as if it's being ripped from a plain brown wrapper—the inside reveals nothing nearly racy enough to justify one, but the image is simple and effective.
Do Trompe-l'oeili covers actually fool anyone—or are they just examples of designers walking the fine line between clever and stupid? I think my own humble addition to the genera from a jillion years ago was effective because the free weekly newspaper I worked for often looked as beat up as my phony (at least the top-most copies) by the time it was delivered. (OK, at least I saw one woman at Olsson's flipping through them trying to find a good one.) But, tricky or not, these 2D covers often offer a graphic impact that distinguishes them from neighboring publications on the rack. I'll post any other examples in a later post that anyone cares to send in.
[EDITOR'S NOTE: Buy Jandos' new book!]