Architectural Record

Eddie Winner: Best Online Community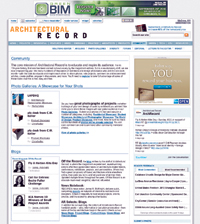 Three years after the initial launch, Architectural Record's online community, which has about 87,000 members, has proven to be a dynamic tool not only for driving Web traffic, building loyalty among readership and creating an ongoing dialogue between readers and editorial staff,  but it's working as a great source for story ideas as well. "Our readership is an engaged, professional audience with a lot invested in the content," explains Web editor William Hanley. "When we see a particularly active commentary, we often follow that up with a blog or an article expanding the conversation."
Hanley and the other editors encourage readers to submit solutions to common architectural challenges, share news with the community; publish photos of completed or ongoing designs, and provoke dialogue with opinionated comments. The readers enjoy images of buildings designed by their peers—projects they can learn from, share with clients, and use as benchmarks. To that end, the community features 17 showcase galleries, containing nearly 10,000 reader-submitted photos from more than 50 countries.
Readers can also create profiles that highlight their professional achievements and affiliations; one-time registration allows readers access to several related McGraw-Hill communities that may interest Architectural Record readers.
The online community is maintained by shared IT personnel, who also work on other McGraw-Hill online offerings.
Although Hanley acts in a managing editor capacity for the Architectural Record community, all editors engage in regular dialogue with users as part of their daily activities. "We have guidelines, of course, and we monitor and contribute to the conversations," says Hanley.  "For a site that allows anonymous posting, the dialogue has been remarkably civil. The community more or less polices itself."
To continue to keep interest levels high and maintain growth, "We do short editorial pieces spotlighting some of the more interesting commentary threads; perhaps a blog, perhaps a follow-up, but it bumps the conversation and keeps readers engaged," explains Hanley.
Meet the Author
---