Aram Zucker-Scharff

Content Strategist, CFO | Age: 25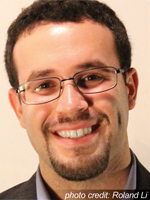 Takeaway: Zucker-Scharff has built a 'narrative map' of CFO's content to better match audience preferences with digital content.
At 25, Aram Zucker-Scharff is a media jack-of-all-trades. Prior to joining CFO Publishing as a full-time content strategist in August, he'd consulted for the brand, was a primary developer for PressForward—an innovative content-aggregation tool—and masterminded two digital publishing platforms.
With talents spread across the digital and editorial worlds, Zucker-Scharff took a holistic look at CFO's strengths to drive engagement. He worked with the company's various divisions to implement key SEO strategies, introduce inviting new design elements, and interact on social media. His approach nearly doubled page views in his first 90 days alone.
But for a brand with such highly focused content, building a Web audience depends on matching it to the right content, he says. To promote the best material, Zucker-Scharff became a media cartographer.
By mapping out past editorial coverage and analyzing corresponding engagement metrics, he's identified big opportunities, he says.
"Building the narrative map of CFO's editorial content has allowed us to select the best content to promote," he says. "A great example of this is on Twitter. By promoting the right stories with the right word choice we have increased click-throughs and engagement."
The strategy promotes traffic, page views and connection with the brand, he says, and it's becoming an intrinsic part of the company's content strategy.
Meet the Author
---