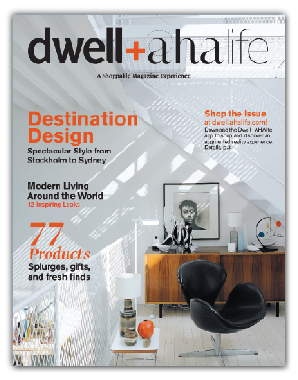 Augmented reality has had success enhancing content and advertising, but many, including Michela O'Connor Abrams, president of Dwell Media, believe its real value lies in e-commerce.
Dwell, a modern design title, partnered with e-retailer AHAlife to produce what the companies are calling "the first truly shoppable magazine" last fall.
"We didn't know if people were just fine with buying from our advertisers," says Abrams, "or if this kind of 'buy now' connection would be really important to them. We absolutely found that it was."
The special November issue, Dwell + AHAlife: A Shoppable Magazine Experience, had 11 of its 33 pages watermarked and formatted for scanning. After downloading an accompanying app, readers would view the pages through their device's camera and press one of the "Shop + Share" icons popping up over a catalog-style layout of products curated by the Dwell editorial staff. The app would then send users to a mobile product page where they could purchase the item or get more information.
While Abrams expected a 1-2-percent conversion rate, 9 percent of those who downloaded the app ended up making a purchase. Moreover, the average purchase price was more than $350, which, Abrams believes, is a useful point about the type of reader who is likely to interact with the AR elements of her magazine.
Make Sure You Market It
With only about 1,000 app downloads however, Abrams admitted she was disappointed with the volume. That had less to do with the audience or the offer, than with the marketing, she says.
"The cover, while very beautiful, was very quiet," she says. "A cover line told you to download [the app], but we have cover lines all over the cover. Unless you really went looking for it, it wouldn't grab you. We should have done something that would show it clearly—like a picture of an iPhone or Android phone—but we were trying to stay elegant, in keeping with what we usually do. The lesson there is that it's okay to be very obvious about what you want somebody to do off your cover."
Even if it had been marketed flawlessly, Abrams says, there's still a training or acclimation period users need to go through before the full potential of augmented reality e-commerce will be realized.
"Our audience is very much a wired audience," she says. "They're comfortable with devices and they're using them. That said, AR is still nascent. You don't see a ton of people using it for shopping experiences. That's because we're still moving from pure cataloging to this contextualized commerce model. It's early."
Abrams is still enthused by the high conversion rates and purchase amounts they got in their first attempt at AR though—enough so, that she's planning to do another issue this fall.
Takeaway:
Dwell's augmented reality approach to e-commerce provided a 9 percent conversion rate. Plans now call for more aggressive marketing messages.