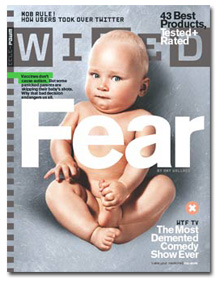 In another step in the evolution of its magazines beyond the printed page, Condé Nast has partnered with Adobe to build a magazine application that will enable the publisher to deploy its magazines on a number of digital devices, including computers, smartphones and color e-readers.
According to Condé Nast president and CEO Charles Townsend, the initiative is "the next piece of the puzzle for developing our unique magazine content in a digitized format that will drive the new devices that will hit the market in 2010." The first product to come from the partnership with Adobe will be a prototype of Wired, which will launch in spring 2010. Other Condé Nast titles are expected to follow later in the year.
The application will be built using Adobe's AIR, a free cross-platform runtime—a piece of foundation software that can run different programs on top of it—launched in 2008 that currently targets Mac, Windows and Linux computers. Adobe announced a public beta 2.0 version earlier this week. Publishers including Time, the New York Times and Boston Globe are currently using the AIR runtime.
"Adobe AIR enables developers to create Web applications and other content that are deployed outside the browser," Bill Rusitzky, senior director of strategic alliances at Adobe, told FOLIO:. "Applications deployed on Adobe AIR have the advantages of browser-based Web applications, such as speed of development, ease of use and access from virtually anywhere. Yet, they also have the benefits of desktop applications, such as the ability to read/write local files, work with other applications on a user's computer and maintain local data storage on the desktop … and features connectivity to the Internet, access to content downloads as well as desktop capabilities to 'playback' content without online access.
"Because it's not browser-based," Rusitzky added, "publications have the ability to create unique branded experiences that engage readers, and advertisers."
What sets Adobe's AIR apart from other digital platforms, according to Rusitzky, is its ability to integrate digital publishing as a central part of the magazine design and production process. "We know that it is critical to publishers that any e-publishing solution fit with the workflow they have today," he said. "Because Adobe InDesign is used extensively in print publishing, Adobe has the publishing platform already in place to help publishers deliver e-magazines in a cost effective manner. However, just automating today's process will not take advantage of the interactive capabilities of today's PC's and next year's digital reading devices. For e-magazines to succeed, they cannot just be print publications that are 'translated' into digital formats after the design and production phases."
The partnership with Adobe comes after Condé Nast officially launched an iPhone application of GQ magazine, in conjunction with its December "Men of the Year" issue. Other iPhone applications have been launched for Lucky and Wired, as well as several of the company's digital properties like Epicurious.com and Style.com.
In addition, Condé Nast said it is in discussions with Hewlett Packard about developing a full-color, high-resolution e-reader that carries advertising as well as editorial content.