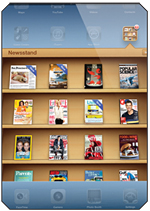 Apple's Newsstand ushered in a new era of "discoverability" for magazine apps and proved to be a game-changer for sales and subscriptions.
In six short months since launching, Apple's Newsstand has managed to ignite a somewhat latent hope behind activity in digital magazines. Critical to the appeal of this virtual "bookshelf" is that it links with the App Store, where users can browse and buy new subscriptions that will automatically download to Newsstand.
The buzzword around Newsstand has been "discoverability," and for good reason: The platform helps magazines cut through the competition from non-magazine related games, music, video, news and other popular apps. Within two weeks of launch, Condé Nast saw subscription sales leap 268 percent across its nine digital editions, while single copy sales rose 142 percent. Bonnier's Popular Science+ sold 3,900 subscriptions and 3,200 single copies within six days of launch, about 2.5 times the numbers it sold for the entire month of September.
Perhaps the best news is that much of this audience is new: Since Newsstand's launch, Future US has seen 40 percent of all new subscriptions in digital, and COO Rachelle Considine says 90 percent of those are from new customers. She adds that 9.2 percent of Newsstand buyers have 2 or more digital subscriptions through the company, compared to 7.8 percent of print subscribers.
Hearst last month reported having sold more than 500,000 digital subscriptions and expects to double that number to one million by the end of the year. Cosmopolitan topped 115,000 digital subscribers. While the company attributes this success to being available from the start on all platforms, it admits that much of this growth occurred within the last six months, with clearly significant help from Newsstand.
VITAL STATS: Condé Nast saw a 268 percent spike in digital subscriptions within two weeks of Newsstand's launch; Bonnier sold 3,900 subscriptions in six days; Future US says 40 percent of its new subscriptions are now digital since Newsstand's launch, with 90 percent from new customers.