iPhone and iPad sales went in opposite directions Apple announced in yesterday's fiscal third quarter earnings report.
Smartphone sales increased 20 percent year-over-year, surpassing 31 million units worldwide, as tablet volume fell 14 percent to about 14.5 million units. At just over $6 billion in revenue though, iPads bring in only about a third of what iPhones generated.
The decrease in tablet sales is concerning given the introduction of the iPad Mini last winter however. As a lower-cost alternative to traditional iPads, it's accelerating a drain on price per unit sold. Revenue from iPads fell at an even faster rate than volume, dropping 27 percent in the quarter. Apple is making less money on each tablet it manufactures.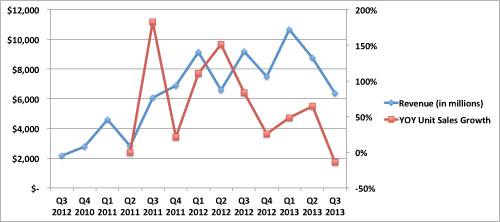 The decreasing iPad sales stand in contrast to high use among its user base though.
Online ad network Chitika reported that more than 84 percent of tablet Web traffic for June came from iPads. No Android-based product-including the Kindle Fire, Samsung Galaxy and Nook-had more than 5.7 percent of market share. That dominance in Web traffic share comes despite an ownership market share of 40 percent, according to market research firm IDC. iPad owners are using the Web a lot more than their Android counterparts.
The positive iPhone news spurred investors to bump the stock 4 percent in after-hours trading, but overall financial results were disappointing. Apple reported $35.3 billion in revenue and quarterly net profits of $6.9 billion. Though income was up slightly from the same period in 2012 ($35 billion), margins dropped by almost $2 billion ($8.8 billion in 2012). Revenues in Greater China-widely acknowledged as a critical market for the company's future-were down 14 percent.
"We saw some dramatic downturn there," Tim Cook, CEO of Apple, said on the company's earnings call. "It's not totally clear exactly why that happened."