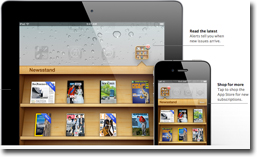 At an Apple conference held in San Francisco on June 6, Apple introduced iOS 5, the latest version of its mobile operating system, which now includes the Newsstand, a virtual set of shelves that display users' subscriptions with the latest issues of magazine titles.
Also new to the App Store is an app that features only magazine and newspapers titles that offer a subscription model to customers.
In the Newsstand feature, each of the user's chosen titles are updated automatically, "so you always have the latest issue and the most recent cover art," according to a news statement from Apple.
The Newsstand is part of the Apple's new iCloud technology, which enables Apple users to move all data to the cloud. After entering an Apple ID and password, "iCloud will seamlessly integrate with your apps to automatically and wirelessly keep all of your mail, contacts, calendars, photos, apps, books, music and more, up-to-date across all your devices without ever having to connect to a computer."
Apple announced its subscription model in March that allowed publishers to sell subscriptions through the App Store (for a 30 percent cut of each sub purchased and Apple keeps user data automatically, unless users choose to share data with publishers). Bonnier, Conde Nast and Hearst are among the publishers that have since signed on to sell subscriptions through the App Store.
Gregg Hano, vice president/group publisher with Bonnier, says, "We feel the launch of the Apple Newsstand is another great move in the right direction…this move will help make Popular Science content more easily discoverable for consumers interested in our subject matter."