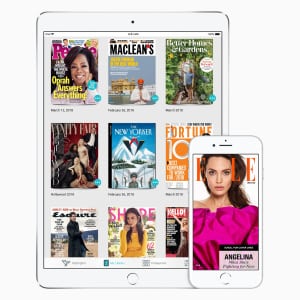 Apple Inc. reportedly plans to incorporate its recently acquired magazine subscription app Texture into Apple News, creating a new premium subscription service, according to a report from Bloomberg. The integration of Texture falls within the company's larger goal of generating more revenue from digital content and subscription services.
After the acquisition of the subscription service last month, a source reported to Bloomberg that Apple made initial cuts of roughly 20 Texture staffers. In order to achieve Apple's new premium service, rest of the Texture technology employees will be integrated into the Apple News team.
Apple's upgraded news service is expected to launch later this year, and will still reportedly share part of the subscription revenue with publishers who are part of the program, though no details of the service cost has been released. Currently, the magazine subscription service allows customers access to over 200 magazines for $9.99 per month for monthly magazines, or $14.99 for premium access to weekly publications.
Apple's former attempt at an all-in-one digital magazine and newspaper destination, Newsstand, which was a built-in iOS app, was discontinued in 2015 after a six-year attempt in the industry. Launched in 2010 as a collaboration between Condé Nast, Hearst, Meredith, News Corp., Rogers Communications and Time Inc., Texture has seen more success with reaching and maintaining a subscription base.
While the terms of the deal have not been explicitly stated yet, evaluations of Texture include $90 million in investments as of 2016, $50 million of which from investment company KKR. Additionally, in 2015 former Texture CEO, John Loughlin, said that Texture paid out over $15 million in revenue to publishers.