The Appeal of Alternative Subscription Products

How sample box subscription services work.
While not an entirely new concept, offering monthly sample box subscriptions has been a highly lucrative side business for many publishers. Boca Raton, Florida-based Sandow Media, a multiplatform publisher targeting the beauty and design markets, launched its NewBeauty TestTube five years ago, and has since sampled 11 million products through one million tube shipments.
The TestTube concept is tied to NewBeauty magazine, a 500,000-circ spa and beauty treatment title distributed to 42,000 retailers. "After we launched NewBeauty in 2005, we started hearing from advertisers that they loved the magazine but wished there was a way they could actually get their products into the hands of our readers," says Yolanda Yoh Bucher, editor-in-chief of NewBeauty and chief creative officer at Sandow. "We launched NewBeauty TestTube in 2006, way before any other beauty sampling subscription services and, since then, we've sampled 11 million products and shipped one million tubes to members."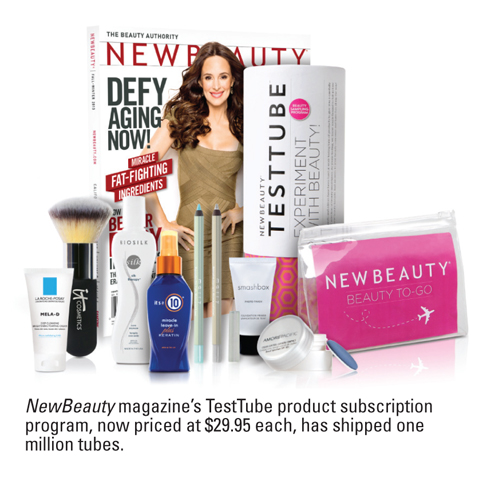 There are several important elements in Yoh Bucher's comment. Chief among them, though, are getting products directly into the hands of customers, and the membership concept. These kinds of subscription services typically appeal to a brand's most loyal customers, a core group that would naturally gravitate towards a membership model. And the product delivery greatly expands the value of the relationship a magazine brand has with its advertisers.
The idea has been adopted by any number of digital-only brands. Women's lifestyle site PopSugar also offers a subscription service called the MustHave box, a monthly box containing full-sized sample products curated by the site's editorial staff. The first month is $35 and auto-renews at $39.99. Customers can also subscribe at three ($95), six ($190) and twelve-month ($380) rates. The site has sold 15,000 subscriptions in the last 18 months.
The Edit Connection
As with PopSugar, NewBeauty emphasizes the editorial connection with the products chosen for the TestTube—not just any product makes it into the bundle. "The products are a combination of editorial selections and select marketing partners," says Yoh Bucher. "All products are tested and approved by NewBeauty. We create specific editorial sections featured in NewBeauty around celebrity tips, secrets and beauty advice that are tied to the products featured in the TestTube program."
Sandow relaunched the $29.95 TestTube service in September, redesigning the package and increasing the frequency from four to six times per year. Yoh Bucher says they've capped the program at 25,000 to "preserve both the quality of the products and the member base."
Fulfillment began in-house, but has since been outsourced to the magazine's fulfillment bureau.
The TestTube is promoted in every issue of the magazine, says Yoh Bucher, and on the brand's website and YouTube page.
The TestTube service has also been extended through a partnership with shopping channel QVC, airing a program four times per year and Sandow has just renewed for a fourth year.
Meet the Author
---