Apparel Manufacturer to Launch Lifestyle Magazine for Nurses

Scrubs will carry a national controlled paid circulation of 350,000.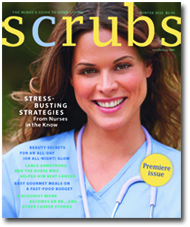 A manufacturer of uniforms and footwear for nurses is entering the magazine publishing market. Chatsworth, California-based Strategic Partners Inc. this week is launching Scrubs, a lifestyle magazine targeting nurses.
The November launch issue will be 60 pages and carry a 350,000 controlled paid circulation, SPI said. The magazine will be available in 1,500 nursing apparel retail stores across the country.
"Retailers purchase Scrubs and sell it at $2.95 per copy or share it with their best customers as a gift with purchase," SPI CEO Mike Singer told FOLIO:. "There will also be bonus distribution targeted to nursing students, VIP nursing school administrators as well as key nursing associations. We believe this distribution model is logical and highly efficient."
The retail stores where Scrubs will be distributed are not owned by SPI but do purchase SPI-manufactured items, a spokesperson said.
Singer developed the concept for Scrubs and will have the magazine custom published by Los Angeles-based Mind Over Media. According to the firm's co-founder and partner Susan Gates, the magazine's distribution strategy "bypasses both the traditional subscription model as well as the newsstand model—it is streamlined, cost effective and cuts straight to the heart of the nursing market."
The magazine and its accompanying Web site, Scrubsmag.com, will feature content on topics including beauty, money, style, health and wellness. Singer said there is no conflict of interest in a nursing apparel manufacturer like SPI owning a magazine for nurses. "Scrubs is a lifestyle magazine so the editorial team is not likely to do hardcore reporting on the scrubs apparel business," he said. "Trust is tantamount here. That is why our editors must have free rein [over content]. Our readers are very smart, we know them well and Scrubs has to be authentic and real."
Scrubs will be audited by the Business Publications Audit (BPA). Following the November issue, Scrubs will publish again in April, August and December—in conjunction with the seasons for new nursing apparel, Singer said.
Elsewhere in Nursing/Medical Magazine Publishing
Trade publisher Allured Business Media launched Merge, a bimonthly magazine targeting medical practices and spas that provide aesthetic medical services. The magazine carries a 16,000 circulation in the U.S. and Canada.
And, according to the most recent Wooden Horse Magazine e-newsletter, Cengage Delmar Learning has shuttered LTC Nurse's Companion and Resident Assistant magazines, effective next month. 
Meet the Author
---