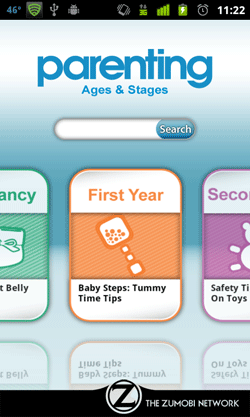 With the latest slew of magazine apps launched in the past few weeks comes promising news for publishers in the digital space: publications with an Apple app have seen enough success to try their luck in the Android market.
Enter the Droid Apps
In partnership with Zumobi, Parenting Magazine (who launched their Ages & Stages app in the App Store in June 2010,) has developed their Ages & Stages app for the Droid market. Since debuting in June 2010 in the App Market, Parenting has seen the average Ages & Stages app user stay in-app for 27 minutes; advertisement click through rates are around eight percent.
The free Ages & Stages App has been updated for the Droid market, and now includes push notifications and information on pertinent product recalls. Digital issues of Parenting Magazine are available through the iTunes store for $2.99 per issue.
Penton's Broadcast Engineering US/Canada Magazine and Texterity have announced the arrival of Android apps for smartphones, which will be followed by Android apps for tablets. Broadcasting Engineering U.S. is a 33,000 print and digital circulation pub; sister title Broadcast Engineering World has a circulation of 12,000.
The b-to-b publisher launched apps for the iPhone and iPad in early March, and has seen 1,400 downloads of the apps and 4,000 sessions to date. There are also browser-based editions of the apps available for Blackberry and Windows Devices.
Penton's apps in all markets are free.
New for the iPad
In Apple market news, Cygnus Business Media unveiled an iPad app for Sustainable Construction at the recent ConExpo. Officially announced on April 13, publisher Nancy Terril says that over 500 apps had been downloaded, with 60 percent of this number from Europe, Asia and the Middle East.
Sustainable Construction's free iPad app was one of the first 200 apps created with Adobe's Digital Publishing Suite, which officially launched on March 7. The app features new stories, videos, graphs, tables, podcasts and links.
Scholastic Parent & Child magazine has also launched an app for the iPad, Scholastic Parent & Child PLUS; Chrysler Town & Country has signed on as the launch sponsor.
As part of the sponsorship, Chrysler Town & Country will donate five new books from Scholastic to users' chosen schools when they visit Chrysler's Facebook page to register for a test-drive of the latest model of Town & Country.
For the App Audience Only: "The Appazine"
One publisher has chosen to skip the print issue altogether and debut directly into the app market.
Ringier, a Swiss-based media company, announced the publication of its international, multi-lingual magazine, the collection, on April 12 in Switzerland and Europe. The world-wide launch was announced April 24.
the collection is available through the App Store; the app itself is free, and each subsequent issue costs $4.99 stateside. The current issue, "Prince William: The British Monarchy's Great Hope", is free for download Friday and Saturday in celebration of the Royal Wedding.
Free updated features of the issue will be available May 1; fresh content will include panoramic pictures, 3D animation, an updated Royal Family tree and betting options.
Led by editor Peter Hossli and art director Stephane Carpentier, the collection is currently available in English, German and Mandarin editions.