App Producer Nomad Editions Adapting As It Goes

A unique revenue and cost structure allow for strategic flexibility.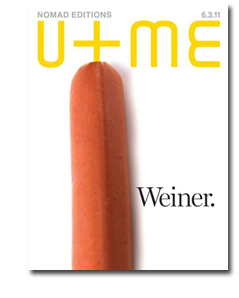 Reflecting the rapidly changing landscape of app publishing, Nomad Editions, a producer of app-only magazines led by former Newsweek president and managing director of media brokerage firm AdMedia Partners Mark Edmiston, has been making some strategic about-faces on the fly.
Already, the seven-month-old company has shed one of its titles and expects to add two more by the end of the month, and a couple more this fall. The company's cost structure (very light) and distributed creative network afford it an ability to add and subtract brands as it goes along.
While Nomad would of course like all of its apps to be home runs, its model is uniquely positioned to tinker with titles until it finds a hit.
Nomad's apps are all weekly, a frequency Edmiston says it will stick with because it's particularly suited for the app market. Current titles include Uncorked (wine), BodySmart (healthy living), U+ME (social networking), Wide Screen (movies) and Real Eats (food and recipes). By the end of the week, a personal finance title called Sustainable Money will launch. And by the end of the month Good Dog will be added to the portfolio.
The company has more titles on deck. "Our thinking right now is to take the summer off [from launches] and come back in September with titles on photography and collectible cars. Both are unnamed at this point," says Edmiston.
Nomad combines its own ideas for particular enthusiast markets to target with those from prospective editor pitches. "We select the broad areas and the editor has to convince us that they can deliver something with emotional punch," says Edmiston.
The company has also been able to make strategic adjustments on the fly. A surfing title has already been dropped. "We really believe that weekly is the right frequency and there just wasn't enough to write about," explains Edmiston. "We said to the editors early on if it's not working to tell us, and they did. We thought about going monthly and didn't want to and folded it up."
This flexibility is part of Nomad's business model. The costs are low and editors and writers share percentages of the app's revenue. Editors receive 5 percent of revenues as salary, contributors split 30 percent. The apps are essentially independently produced, with Nomad providing the infrastructure and promotion. Apps are created using a CMS called Treesaver, a software suite developed by Roger Black and former Microsoft engineer Filipe Fortes that leverages HTML5.
"We are not spending huge amounts, or even small amounts, of money," says Edmiston. "Our feeling is to work with the editor as a partner. We expect that we'll be ending some [titles], but will always have some in the pipeline. It's hard to say what we'll have this time next year."
Nomad has also changed its pricing structure. Originally intending to charge $6 for three-month blocks of subscriptions, the apps are now priced at 99 cents per month or $9.99 per year. The new pricing was encourage by Apple, which is currently the only platform the apps are available on due to an exclusivity agreement with the company, which will be ending soon. The 99 cent threshold, it seems, has been ingrained in the minds of app purchasers. But the $9.99 tier has been surprisingly successful. "Forty-three percent of people who subscribe take it for the year. Some of the titles have been over 50 percent," says Edmiston.
In the first two weeks downloads totaled about 5,000. Edmiston declined to reveal how many subscribers Nomad currently has, but he says if the current rate of downloads is extended for the year it averages out to about 100,000.
Customers download a free trial issue and then decide whether to subscribe. That lag time has averaged about 4 days.
To market its apps, Nomad uses a company called Fiksu, which created an algorithm that places rotating display ads in a range of free apps. "The ads appear in other apps—Pandora or Angry Birds—that are advertiser supported. We're getting downloads for less than a dollar. We've talked about it, but we're not currently renting lists. We may do some email marketing down the road."
Advertising has been a challenge so far, says Edmiston, who notes the agencies have been slow to add the app platform to their services. Nomad has hired an advertising director who, at this point, evangelizes the platform at agencies and clients. "Her job is to go around and talk to people and educate them on what we're doing," he says. "The idea is 2012 will be the first year we get any significant advertising."
Edmiston also noted that Nomad this week added another member to its advisory board. Former Time Inc. executive vice president of consumer marketing and former Next Issue Media board member Brian Wolfe will be lending his expertise to the company.
Meet the Author
---