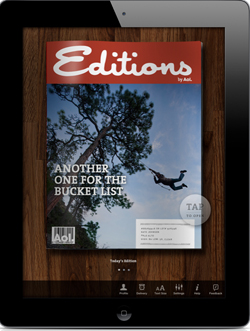 The tablet has been the latest go-to source for trying to reach personalized content nirvana. And of course it's the magazine format that seems to make the most sense from both a metaphorical and presentation perspective.
AOL just jumped into the game with Editions, a free daily "magazine" that pulls content from a variety of sources. Those sources, the topics and their presentation are selected, tweaked and arranged by the reader. As the promotional copy reads, it's "the magazine that reads you."
Content from Huffington Post and Patch, of course, are available to provide world and hyper-local news, but users can add non-paywall sites and sources they want to see content from. Readers can pick from 16 different topics such as sports, entertainment, music and travel. A keyword function lets readers choose or exclude keywords within articles to further tailor their reading experience.
Editions is frequently being compared to Flipboard and News Corp.'s The Daily. The former for its similar content aggregation strategy and the latter for its breadth of coverage, albeit in a proprietary reporting context.
According to TechCrunch, also an AOL property, the app imports 30 to 50 stories at the same time every morning, rather than each time the reader opens the app, curiously deciding not to allow real-time content updates.
"If I open AOL Editions and read what I perceive as yesterday's or even this morning's news compared to what I can get online, I'll just stick to the Web," says Eric Schonfeld in his post about the app.