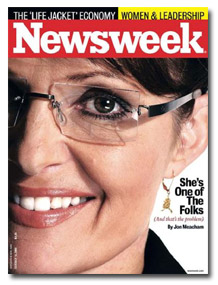 The magazine industry is no stranger to Photoshop controversies, but this is a first.
During a discussion about Newsweek's Sarah Palin cover on—what else?—Fox News, Andrea Tantaros, a Republican media consultant, said she is outraged over the cover because—get this—Newsweek opted not to retouch Palin's photo:
"This cover is a clear slap in the face at Sarah Palin. Why? Because it's unretouched. It highlights every imperfection that every human being has, but we're talking unwanted facial hair, pores, wrinkles. This is a gross slap in the face to Sarah Palin."
Fox News' Megyn Kelly: "Any respectable magazine should be doing a little retouching."
I felt compelled to consider Bill O'Reilly's argument that Newsweek under editor Jon Meacham has swung far to the left. But to condemn Newsweek for not retouching a photo, viciously exposing—wait for it—pores is, frankly, insane. It's a bleeping news magazine!
This debate, by the way, wasn't merely relegated to off-hours on the Fox News Channel—Tantaros appeared last night on CNN's Larry King Live to make the exact same argument.
"What do you think about Palin's pores, gang?"