Any Big Deals Coming Before 2009? (Sound of Crickets)

A report from the JEGI Deal Conference.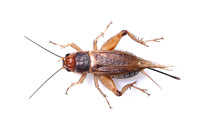 The sound of crickets.
That's what the crowd of 120 or so who turned out this afternoon for the Jordan, Edmiston Group's Growth Conference heard during its "State of the Industry" address when JEGI managing partner Tolman Geffs asked this question:
"What is our prediction about what's in store for media M&A over the remainder f the fourth quarter?
"Uh, well … it's pretty slow right now," he said.
While traditional newspaper and consumer and b-to-b magazine activity was admittedly down this year (severely in newspapers), it wasn't all bad. Geffs, with fellow managing partner Scott Peters, pointed to online consumer and b-to-b, database and information, and interactive marketing companies as the likely big growth areas looking to next year. Right now, they said, big media deals aren't happening, but strategic buyers, making smaller, tuck-in deals, are "keeping the M&A market alive."
So, when will the economy rebound, and when can we expect deals and valuations to return? According to Geffs and Peters, they expect the market to bottom out before the end of the year and to see more formidable growth starting in 2010.
Meet the Author
---