Anthem Media Group Suspends Publication of Speedway Illustrated

Magazine calls it quits a little more than a year under new ownership.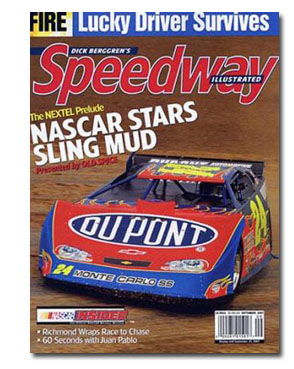 Marketing firm and magazine publisher Anthem Media Group has suspended publication of Speedway Illustrated. The magazine had been published by Formula Five Media, a subsidiary of Anthem Media.
The decision to cease publishing came earlier this summer. The company posted this note on the magazine's Web site:
Speedway Illustrated temporarily suspended publishing after the April 2010 issue was mailed. We removed all links for subscribing electronically as soon as word was received that it was no longer being published, but a half dozen or so people found a link that was buried within another page on the site. We contacted the people who we could reach in an attempt to stop further orders from being entered and where possible, had PayPal reverse any charges.

Formula Five Media, the owners of Speedway Illustrated, have met with counsel to determine how best to proceed in this regrettable  situation and hope to soon have word and will post that information here as soon as it is available regarding the future of this great magazine. We apologize again for this situation and that we were slow in posting this information. We are deeply concerned about making sure you receive value for your subscription payments just as we are very concerned about the jobs of the great people who put Speedway together each month.
An Anthem Media representative could not be reached for comment.
Anthem Media Group acquired Speedway Illustrated in early 2009 from Down East Enterprise Inc., publisher of Maine's Down East magazine. The acquisition included all of Down East's Performance Media LLC., which was made up of Speedway Illustrated, SpeedwayIllustrated.com, NASCAR Insider and the Speedway Expo.
Following Speedway Illustrated's closure this summer, some of the magazine's subscribers began leaving angry comments on FOLIO:'s report about its acquisition.
Speedway Illustrated was launched in May 2000 by former driver and TV commentator Dick Berggren. At the time of its acqusition by Anthem, the magazine carried a monthly circulation of about 120,000.
Meet the Author
---