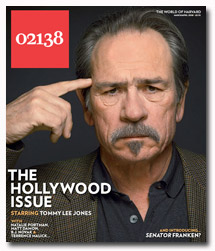 Manhattan Media, the company which bought irreverent Harvard "lifestyle" title 02138 from Atlantic Media in May with the intention of relaunching it in December and ambitious plans to up its frequency while rolling out similar Ivy League titles in 2009, has instead decided to fold the magazine.
The company had tapped reknowned design consultant Luke Hayman to redesign the two-year-old magazine. The redesign will be published online, the company said.
"While Manhattan Media, and its financial backer Isis Venture Partners, are committed to long-term growth capital, the funds needed to execute our strategic vision would by necessity have grown significantly and beyond the company's risk/return profile," CEO Tom Allon said in a statement Friday. "The current economic environment has made it too difficult to proceed at this time."
Most of 02138's nine staffers would be let go, according to a Mediaweek report.
Manhattan Media also publishes the luxury title Avenue.
Earlier in the day, Radar magazine announced that it would fold its print publication and sell its Web site, Radaronline, to American Media Inc.
This week, Masthead magazine, the Canadian magazine for magazine publishers, announced that it would cease publishing after 21 years. Alexander Donald, president of North Island Publishing, Masthead's publisher, said the magazine "has not been financially viable for several years now and structural changes in the market have created even more challenges."