Another Newspaper Magazine Launches

Philadelphia Inquirer's 'I' targets affluent suburbians.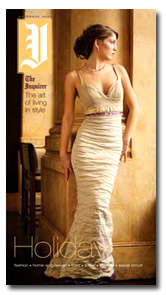 The Philadelphia Inquirer this week launched "I" magazine, a glossy bimonthly luxury lifestyle title. The magazine—which covers fashion, home décor, entertainment and events—was distributed in 115,000 newspapers sent to homes and newsstands in affluent suburbs.
 
The newspaper's arts and entertainment editor, Sandra Clarke, is overseeing the new magazine.
Earlier this year, the Wall Street Journal launched luxury lifestyle magazine WSJ. With "The Luxury of Choice" as its tagline, the 100-plus page quarterly's circulation is 967,000, split between the paper's 800,000 U.S. circulation and 167,000 in Europe and Asia.
In September, the Boston Globe newspaper launched weekly sports magazine OT, which stands for "Our Town/Our Teams."  
This week, the New York Times shuttered its quarterly sports magazine Play.
Meet the Author
---