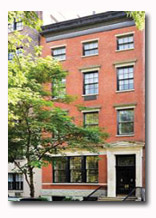 Metropolitan Home is one of the latest magazines to dip its brand toes into the housing market.
The magazine has teamed up with Showtime to create "the ultimate multimedia showhouse" in New York's Gramercy Park neighborhood. They'll transform a $20 million, 8,800 square foot Greek revival townhouse into a "chic, upscale residence," where they'll hold parties, tours and other events.
Met Home is far from the first magazine to do this. Esquire this fall created its "ultimate bachelor pad" in Harlem, overlooking Central Park, and sold sponsorships to brands like Louis Vuitton, Jaguar and Versace. It was Esquire's fifth year creating these so-called "Signature Spaces." Esquire had raised $2.9 million for charity in the four years prior.
RELATED VIDEO: Click here for FOLIO:'s exclusive video tour of Esquire North
And of course, they'll showcase sponsors' products. Some of the brands already signed on include Benjamin Moore, Thermador, Jacuzzi, Bo Concept and others in the housing and home improvement categories—a tough-sell for many publishers right now. (The magazine will also donate proceeds from tour ticket sales to a non-profit organization.)
Some magazines are making other moves in the market. Better Homes and Gardens recently launched a real estate franchise. Dwell has a line of pre-manufactured "Dwell Homes."
A lesson for publishers? Don't let up on tough markets, just get creative.
[EDITOR'S NOTE: Check out the August issue of FOLIO: to learn tips for selling in a down market from the publishers of Architectural Digest and Real Estate Media.]