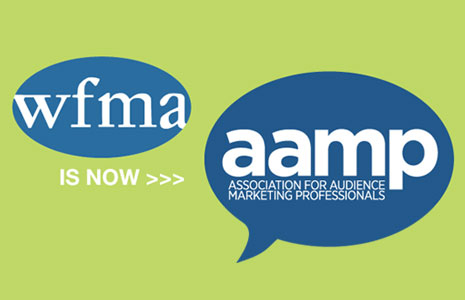 Add another magazine association to the rebranding list. The Western Fulfillment Management Association has changed its name to Association for Audience Marketing Professionals.
The WFMA's new brand is the result of a familiar-sounding situation: "The new name reflects the transformation of the publishing and support services industries in the last decade to include digital and other media," says the release announcing the change.
The WFMA produces the annual CircDayLA event and was started in 1976. The rebranding, says the association, is the first of a series of initiatives to expand membership.
In a bid to give its membership roster a shot in the arm, the AAMP has begun offering complimentary membership for 2013.
The rebranding directly addresses what's been happening in the audience marketing discipline for the last ten years, but has ramped up quickly in the last several: Print circulation and audience marketing is now inextricably linked with every other platform a brand is on, including digital, mobile and events. And there are a host of media companies that do "audience development" that have nothing to do with print.
By changing its name, AAMP is better positioned to not only recognize and serve the changing discipline of magazine audience marketing, but it is also creating an opportunity for other kinds of media organizations to become members.
Associations in the magazine market in general have found themselves in awkward situations—branding or otherwise—as the pace of change quickly made them appear outmoded. The Society of National Association Publications rebranded as Association Media and Publishing in 2009. A year later, the MPA renamed itself The Association of Magazine Media.
More recently, other magazine associations have struggled to find their footing in their markets. The Western Publishing Association had to postpone its annual conference this year due to sluggish registration.
And ABM, which saw the writing on the wall and rebranded from American Business Press to American Business Media more than a decade ago, just officially merged with the Software and Information Industry Association, becoming a standalone division within that organization and ending a 107-year run as an independent association.