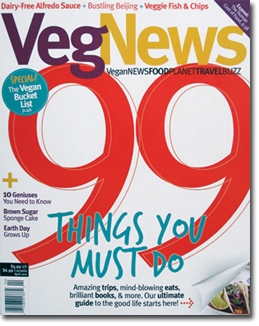 Photoshop controversies are nothing new among magazines, usually in the context of some celebrity digitally shaving a pound or ten for a cover shoot.
Last week VegNews, an independent vegan magazine, was called out by a blogger for using stock images of dishes with meat and other non-vegan recipes, sometimes photoshopping out the offending images.
"We've always been fans of VegNews, since back in the mid-2000s when we'd wait with bated breath for the US Mail to deliver our copy," the blogger writes. "We'd eagerly flip through, reading all about the latest veg stuff, salivating over the amazing pictures, trying out a vegan recipe, and maybe even discovering a restaurant in our home town through one of their reviews. It's sad, then, that the pictures we've been drooling over for years are actually of MEAT! Veg News has written tens (possibly hundreds) of articles extolling the virtues of a vegan lifestyle, while purchasing rock-bottom priced stock photos of MEAT, EGGS, DAIRY and other completely non-vegan things."
The magazine's initial response was that it was "deeply saddened with the dialogue" that transpired and explained that the photos were a necessary evil. "VegNews is a privately owned, independent publication with no funding or investors," the publishers replied. "Publishing a magazine is extremely costly-with exorbitant costs for printing, postage, paper and production. . .Yes, from time to time, after exhausting all options, we have resorted to using stock photography that may or may not be vegan."
That didn't do much to sway readers, who feel passionately about the topic and understandably felt fleeced. On Monday, VegNews issued a full apology, saying "With regard to our use of symbolic imagery in VegNews, our readers got it right. We wholeheartedly apologize. We assure you that we will never again use non-vegan photographs in VegNews." The publishers say they will also build a vegan photo data bank.
"To give you some background, 95 percent of all photos in VegNews are indeed vegan," associate publisher Colleen Holland told FOLIO:. "In the rare situations that we've had to make the tough call on using a non-vegan stock image, we've taken it very seriously. We exhaust all of our possible options, and ensure that a vegan version looks exactly the same or better than the image we're really considering using. It really is a last resort at that point."
In one example, VegNews photoshopped a plate of barbecue ribs to make them look like their vegan counterpart. "This was an 11th hour decision after an exhaustive photo search," says Holland. "It was a singular case, we knew the vegan version looked exactly the same, and the photo used in the magazine was 2×2 inches. That was an absolute anomaly and something we didn't do before or since. It goes without saying that our goal has always been to have 100 percent vegan photography."
That said, "We never expected this reaction," says Holland. "And had we ever felt that readers would be so strongly opposed to the practice, we wouldn't have done it. But our readers spoke and we listened, and they are happy we're figuring out a way to increase the number from 95 percent to 100 percent."  

Getting a magazine out as an independent publisher these days is no small feat, but there's no excuse for deliberately putting one past your audience; just as there is no excuse for lifting someone else's work (which Countryside Publications was accused of last year for running photos without permission; or the infamous Cook's Source, which did the same with content). No matter how tight things get, you can't do it in the first place. And if you do, in these days of the long tail and readers having their own voices, you're not going to get away with it forever.
On the VegNews Facebook page, readers are split in their reaction, with most seeming to accept the apology, while a minority staunchly reject it. The brand is likely to lose some readers, but overall the magazine probably won't be hurt too bad because it owned up.
As a business, VegNews could be an inspiration to smaller publishers. What started with an investment of $3,000 in 2000 has grown to a company with more than $2 million in revenue and a readership of more than 1 million per month. At FOLIO:, we even recognized them with an Eddy Award for their Web site earlier this year.
Everybody is cutting corners these days; but go too far, and both publisher and reader end up the losers.