Another Editorial Departure for the Content Marketing Sector

Better Home and Gardens vet Kristine Kennedy joins online retailer Wayfair.com.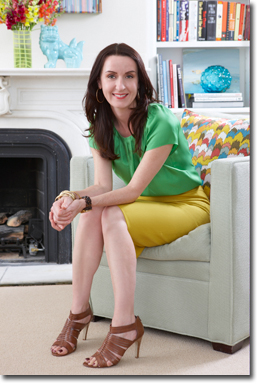 As many publishers add e-commerce to their lists of services for readers, some are finding new career options in the buzz-filled sector. Another opportunity in the growing content marketing channel, editors (who, at their best, are experts in content production, targeting and delivery) are prime candidates to enhance brand expansion strategies. As content marketing guru Joe Pulizzi points out, "These people are responsible for the brand story, and how to integrate that story within the entire organization. Who are these people? Many of them are your former chief editors or writers."
Kristine Kennedy [pictured], former East Coast editor with Better Homes and Gardens, has joined online home goods market Wayfair.com in the newly created role of editorial director. Here, she shares with FOLIO: why she left BHG after a 17-year tenure to join Wayfair.com, and how she plans to maintain her editorial credential in the retail arena.
FOLIO: What does the role of editorial director consist of at Wayfair.com?
Kristine Kennedy (KK): It's really heading up a content creation department for the site, which includes both visual and editorial content. We are trying to figure that out right now. As I'm the first hire, I'm spearheading the whole thing. We'll be hiring for positions as the months move forward, for roles such as editorial, style director, photography and image creation.
FOLIO: Let's discuss your move from the editorial to the e-commerce world. What inspired you to make this change? You've been with Better Homes and Gardens for 17 years. What was your title when you departed?
KK: I was East Coast editor for eight years. I had been familiar with Wayfair.com; I met CEO Niraj Shah at the beginning of 2010 because I shot his house for our anchor feature for the July 2010 issue of BHG. I had not been specifically thinking about leaving BHG or publishing, but I remember meeting Shah at the shoot. I was very impressed with him; as well as co-founder, Steve Conine, who was also at the shoot.
I had dealings with the company over the past year, because they would provide products for some of the makeover stories that I was in charge of. I thought they were a very smart company, and saw a huge opportunity in their rebranding effort. I saw content could be a huge part of that.
FOLIO: What does the rebranding transition effort at Wayfair.com consist of?
KK: The company was formerly called CSN Stores, and it was comprised of multiple microsites. It's a very successful company, but the way people usually found the company was natural search (in a Google search for a term). CSN Stores wasn't a very memorable name, or memorable umbrella brand experience. The company already had efforts underway starting earlier this year to rename and rebrand themselves, to bring all those microsites under the parent brand. They then launched a new name and new look in the first week of September. The inclusion of content is a huge part of helping to define the brand, and provide service to people investigating home improvement.
FOLIO: What do you think will be the biggest difference between your previous and new roles?
KK: I actually don't know if there's going to be a huge difference in tasks I'm doing, or skill sets I'll be applying. That's one of the reasons I'll be a good fit here. Better Homes and Gardens has a massive circulation, and a mass brand. It really tries to serve its reader, and give service-oriented information. It's very style-agnostic: [we tried to accommodate] any style, any region of the country with ideas they can achieve.
Wayfair's very much the same: the mass brand has a massive catalogue of products, and it's trying to make home life better. They're also style-agnostic, and deal with people in all different regions. In terms of customers, it's very similar. In terms of creating editorial or creating stories in order to communicate those points (as well as social media), that's actually very similar as well.
FOLIO: Can you offer insight into how others may make the transition from purely editorial to more branded content creation?

KK: It's an incredibly fast-paced environment; I think a lot of magazine publishing companies are very established, and have more hierarchies involved. As a nine-year-old company, everything's very fluid, very exciting. People are very willing to try things. That's an online environment in general; in magazine publishing companies, too. You have to enjoy working in that kind of environment; you have to be action-oriented.
With the placement of editorial within an e-commerce context, because you are in a retail environment, you have to think about how to remain credible. It is not my job to be here to sell products; it's not my job to force customers to buy things. It is my job to help customer find information, have fun and be inspired. I do have the resources of catalogue at my disposal to help me do that, but I'm not a marketer. I'm an editor. One should make sure those lines are clear, both inside the company and to consumers.
FOLIO: What excites you about your new position with Wayfair.com?
KK: Being part of the rebranding for the company. Previously, customers were experiencing the brand just in a transactional setting. They might have been engaging with content somewhere else, and came to the site to buy [a featured product].
What I consider to be content is anywhere the brand is engaging the consumer in the transactional experience. I'm not going to be the one sitting on the phone selling her something. If she's looking for inspiration, for guidance; or she see something on Twitter; or uploads something she has done herself, that's what I will be part of. I'm here to create an engaging relationship with the customer.
Meet the Author
---