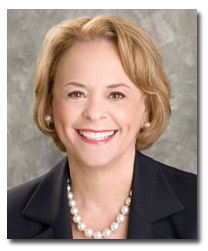 NEW YORK—Time Inc. CEO Ann Moore said Tuesday that the company's dramatic restructuring last fall—during which roughly 600 staffers at the mega-publisher were laid off—has proven to be an unmitigated success.
"It's been a home run," Moore said.
Her remarks came during a keynote here at the annual New York Magazine Day event.
The moves, Moore said, "changed a [corporate] culture that had been getting in the way." Decisions, efficiency—and innovation—are occurring faster inside Time Inc. than ever before."
Moore pointed to Time Inc. University, a program in which managers instruct rank-and-file in a classroom setting, as one example of a streamlined publishing company.
Restructuring Costly
Late last year, Time Warner said the reorganization and layoffs at Time Inc. would cost the company between $100 million and $125 million in restructuring charges. Time Warner took on between $280 million and $310 million in restructuring fees in 2008.
Time Inc.'s revenues decreased 7 percent (some $347 million) to $4.6 billion in 2008, due to declines in advertising revenues (10 percent), subscription revenue (2 percent) and 8 percent in other areas. The slide in advertising was due to decreases in print magazine revenues and lower custom publishing revenues, as well as the impact of the 2007 closures of LIFE and Business 2.0 magazines, Time Inc. said.
Bullish on Print
Meanwhile, Time Inc. is working on a dozen new redesigns of its print magazines, Moore said. Most will roll out in 2009.
Yet Moore hinted that not all of the company's magazines will always be in print.
"I'm absolutely sure each of the Time Inc. brands I work on will be standing after we're all gone," she said.
The key being brands—not necessarily their magazines.