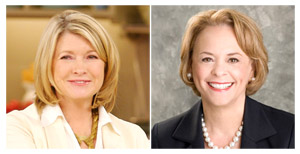 RELATED: Does Ann Moore Deserve a Lifetime Achievement Award?
The Magazine Publishers of America said today it will honor Time Inc. CEO Ann Moore and Martha Stewart with lifetime achievement awards.
Moore [far right], who is in the process of orchestrating a dramatic reorganization of the mega-publishing company, is set to receive MPA's Henry Johnson Fisher Award, named after the founding publisher of Popular Science.
Stewart, who founded Martha Stewart Living Omnimedia, will be inducted into the American Society of Magazine Editors' Hall of Fame.
According to MPA chairman and CEO Nina Link, Moore has shown "extraordinary management skills and entrepreneurial drive" throughout her career and has "transformed" Time Inc. by launching magazines and "overseeing her company's transition to digital platforms."
Of Stewart, newly-appointed ASME CEO Sid Holt said: "With the launch of Martha Stewart Living in 1991, Stewart created an entirely new magazine category … her impeccable attention to detail make her an inspiration for magazine editors and designer of every generation."
The awards are to be presented at a ceremony on January 29 at the Plaza in New York City, the MPA said.