Anjali Lewis

Associate Publisher, Creative Services, Vanity Fair/ Condé Nast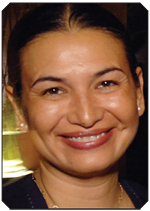 Lewis has won the respect of colleagues on the business and editorial sides of Vanity Fair with a focus on digging out new revenue streams and pushing the envelope while maintaining brand integrity.
An iconic brand like Vanity Fair has a legacy to live up to, an image to uphold, expectations to fulfill. One of those expectations is that it will evolve with the demands of the times, and right now that means "being everywhere," says Anjali Lewis—online, on tablets, in print and in person, all while maintaining a singular, yet mutable, voice and vision.
For Lewis, who runs the brand's creative services division, developing envelope-pushing, highly customized advertising programs that cohere with Vanity Fair's "core values" is her primary focus.
Last year, for Cadillac—seeking a more contemporary image—Vanity Fair partnered with The Museum of Contemporary Art in Los Angeles to commission three public murals for the newly built West Hollywood Public Library from three renowned street artists: Shepard Fairey, Retna and Kenny Scharf. The project was photographed and featured in a custom advertorial in the magazine's November issue. The program was enhanced with a multimedia teaser campaign on VanityFair.com, as well as with custom ads and narrative short films in the magazine's iPad edition. The team publicized and celebrated the venture through a Twitter campaign and a party. Cadillac has signed on for "chapter two" this year, Lewis says, in a different city, with different artists, but the same idea.
For Lewis, it's all about creating longevity and stickiness. "If we are throwing a party for a brand," she says, "how can we make sure that party lives on beyond the two hours?"
Passion, she adds, is a key to success: "If you love what you do, that's going to be apparent to everyone who works for you and with you. Our industry moves so quickly—it can either bog you down, or you can see opportunities."
VITAL STATS: In 2011, more than 10 percent of Vanity Fair's total ad pages were driven by large scale, integrated, custom programs created for advertisers through Lewis's department. Under her direction, the brand's Campaign Hollywood series of sponsored events brought in the largest number of advertising commitments in Vanity Fair history, with a 28 percent increase from the year before.
Meet the Author
---