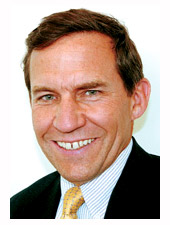 Andy Goodenough has resigned as CEO of Summit Business Media "to pursue other interests." Summit CFO/COO Tom Flynn will serve as interim CEO while a search for a replacement is conducted.
Goodenough [pictured] joined Summit in 2007 as president and took over as CEO in 2008 from Summit's late founder, publishing veteran William R. Reilly.
Summit went on a buying binge in 2006 and 2007, closing about seven deals in 20 months and buying Pfingsten, Highline and Wicks Business Information in rapid succession. For the last two years, however, Summit has focused on paring down its portfolio to its core insurance and professional financial services products, selling off its mortgage and professional training groups. Last month, Summit sold Highline Data-its insurance information service unit-to SNL Financial LC. Highline Data generated less than 10 percent of Summit's overall revenue.
Summit Business Media filed for a voluntary bankruptcy restructuring in January and emerged from Chapter 11 in May, having slashed $140 million in debt.
Charlie McCurdy, former CEO of Canon Communications and current CEO of GLM Holdings, and a member of the Summit Business Media board, says no other Summit Business properties are on the block.
"Leverage has come down quite a bit since the restructuring and Summit is making its numbers," says McCurdy. "Revenues are tracking to meet or exceed budget. The media division is on a good path toward digital expansion, we have a reference business that performs quite well, and an events business that has shown attractive growth."
"I've heard that they've really been carried by some of their events and that the core business is showing either modest growth or declining," says one b-to-b executive.  
McCurdy says he will continue as a Summit Business board member but his "day job is at GLM" and he won't be taking the vacant CEO position.
The Summit Business board also includes current F+W Media chairman and CEO David Nussbaum; former Ziff-Davis CEO Jason Young; and Jean Clifton, former EVP and CFO of Penton Media and CEO of Reader's Digest.