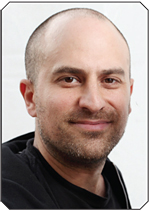 By relentlessly focusing on brand and developing an array of experiential and integrated marketing programs, Cohn has guided The Fader into its biggest revenue years in it's history.
The Fader, a 13-year-old, 97,500-circulation magazine at the cutting-edge of independent music, fashion and lifestyle, is part of a category that's had its fair share of turbulence over the last few years. But while the music industry and the magazines that cover it have made varying degrees of knee-jerk efforts to remain vital to their audiences, The Fader has managed to stay faithful to its format while gradually reinventing itself under the surface.
Key to the magazine's ability to grow its influence and revenues has been Cohn's insistence that it not label itself as a magazine and avoid growth strictly through print-based circulation strategies.
Cohn literally instructed his team to avoid using the word "magazine" when referring to The Fader. "It's about approaching brands with that platform idea, and not just with some ad pages. We want to approach brands as constructive marketing partners," says Cohn.
Yet, the brand's experiential programs are likely its best secret weapon. At the center of this strategy is The Fader Fort, a live event music showcase during SXSW that features 45 bands and 12 DJs, attracts 50,000 fans and is live streamed globally. There's a partnership with Fuse TV, a dedicated section on Fader.com features content year round, and this year the Fort attracted 10 sponsors including Converse, Nokia, Vitamin Water and Southwest Airlines.
With $1 million in production costs, the Fort is not a huge revenue generator by itself, but the halo effect it produces and the spin-off projects it inspires with other brands more than makes up for it, says Cohn. In 2011 The Fader had its biggest revenue year ever and the brand's business booked through March this year already equaled last year's gross billings.
VITAL STATS: The Fader's centerpiece experiential program, The Fader Fort, attracts 50,000 fans over four days and has been instrumental in giving the brand a record-breaking revenue year in 2011.