Apple's App Store remains the largest but the Google Android Marketplace should match it in size by the end of July, while Blackberry App World will double in size within a six-month period, according to new research from Distimo.
Android far exceeds Apple in free applications (58 percent of the 50 most popular publishers have already developed applications for non-Apple platforms) but has barely one-third the total number of paid apps that are available in the Apple App Store. Daily downloads in the top 100 overall paid and free applications for iPad exceed 500,000, while daily revenue in the top 100 paid is approximately $400,000, excluding in-app purchases.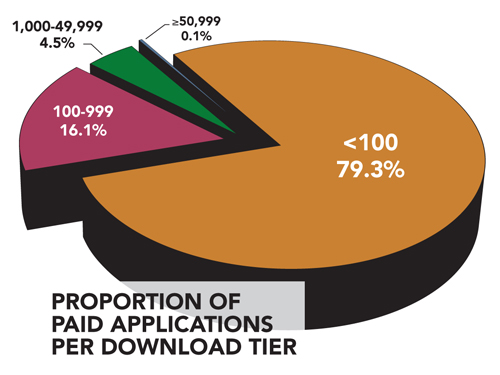 In March, Google introduced in-app billing for Android but developers for Google are still finding more of a challenge with a one-off monetization model than those in the Apple App store, according to Distimo. "We found that only two paid applications have been downloaded more than half a million times in the Google Android Market worldwide to date, while six paid applications in the Apple App Store for iPhone generate the same number of downloads within a two-month timeframe in the United States alone," according to the report.
Apple gains even more ground when it comes to actual usage. Only 96 Android apps have been downloaded more than 5 million times, with Google Maps (which is often automatically downloaded with updates) being the most popular at 50 million downloads. According to the study, the majority of free Android applications have been downloaded less than 1,000 times.
And while 94 distinct applications reached a top 10 (paid or free) position in the Apple App Store for iPhone in the U.S. by April 2011, just 26 distinct applications have made the top 10 in the Google Android Market.
Popular Science was one of the first magazine brands to embrace both the Apple and Google subscription plans. "From an operations point of view, [Google] sounds like more familiar territory to us in terms of the way we market," Bonnier consumer marketing director Bob Cohn told FOLIO: at the time. "The big question is consumer adoption. Are consumers going to buy that tablet? The advantage of the Apple process is it's seamless once you set up an Apple account on iTunes. The disadvantage up until now has been that we didn't have any information on that purchaser—we don't know how many are repeats, how many are trying it once and not liking it. With Google, we'll theoretically be able to obtain all that information. But if they don't sell many units, it doesn't matter."
A Publisher Speaks Out
Perry Solomon, Time Inc.'s vice president of digital and emerging platforms, offered Folio: his thoughts on the Distimo study.
"In some ways it is a reflection of the fact that Apple has been in the market with the iPad for a much longer period of time, so I think the buying behavior for those customers that have iPads and iTunes is a bit more of a well-understood market place," he says. "As the installed base of Android increases, more customers will start to download and buy apps at the Android Marketplace. I think you'll see take rates increasing and our initial experiences have reflected that as well. I think what we're very pleased with, in terms of Android, is that it gives us the opportunity to allow our existing print subscribers to be able to access our content on these platforms through the all-access model."
Solomon says that since consumers value choice, the Android Marketplace outpacing Apple's size will help engage the customers on the platform and increase competition.
From a publisher's perspective, Solomon is pleased with the competition between Apple and Android.
"We don't look at it as a 'versus' or as one or the other but just giving the consumer more choice," he says. "We've made the decision that we want to play on these platforms and I think initially we view this as a net positive—having two strong choices and others emerging. In general, we're happy with the products that we put onto these platforms and we're happy our customers are happy with these platforms."