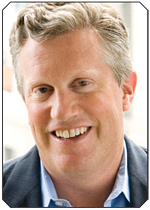 Clurman has been instrumental in helping AIM's multimarket publishing approach diversify into new revenue streams through organic and acquisitive growth strategies.
Like most publishers, Active Interest Media, which targets the equine, healthy living, home design and living, marine and outdoor markets, is still getting most of its revenues from advertising, about 40 percent. But that's quickly changing as the company focuses as much as it can on diversifying around revenues from consumer products, services and content.
Andrew Clurman, who has been with the company since Efrem "Skip" Zimbalist launched it in 2003 with backing from Wind Point Partners, is primarily responsible for growing AIM's media portfolio. "Skip and I work hand-in-hand when it comes to acquisitions and working with our investors, but then when it comes to business development we work more with a divide and conquer method. Skip's focus is on the boat shows, which is our single biggest business and mine is really on building out the portfolio on the media side," says Clurman.
In 2011, AIM's revenues were up 11 percent and its bottom line jumped 20 percent. That same growth is projected for 2012.  That bottom line growth has come from a focus on the revenue diversification and business development fronts, particularly in areas that are highly profitable and not directly in a publishers wheelhouse. Two cases in point: AIM bought USRyder last January, which is like a AAA for horse owners. It's a small operation and AIM has put much more marketing muscle behind it and grown its revenues by 40 percent. "And that's a ninety percent renewal business that is incredibly profitable," says Clurman.
The company's Yoga business has branched out into insurance brokerage. "We have our Yoga Benefits Plus program, which is a membership where one of the key benefits is liability insurance for Yoga teachers. We're brokering for an insurance company, but we bundle that with magazines, a newsletter, discounts to our conferences and that again has been a big growth engine and phenomenally profitable," he adds.
VITAL STATS: Active Interest Media's revenues were up 11 percent in 2011 and bottom line growth was 20 percent. In 2010, the company is forecasting similar bottom-line growth.