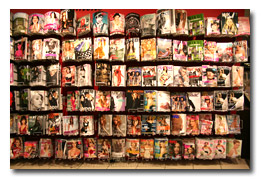 It's been a little under two years since Knoxville, Tennessee-based magazine wholesaler Anderson News suspended normal business activity and eventually went out of business. The mega shut down came as the result of Anderson and fellow distributor Source Interlink announcing separate 7-cents-per-copy price hikes for publishers, and those publishers ultimately balking and refusing to pay.
Now, in a 4,300-word piece published by the Knoxville News Sentinel, Anderson CEO Charlie Anderson talks predominantly about navigating the challenging future of CD sales at Anderson Merchandisers as well as the world of digital e-commerce service Liquid Digital Media.
But Anderson also looks back at the downfall of the magazine business. Asked by the paper if he had to do it all over again, he says he wouldn't have done anything different. "I didn't believe that publishers would actually get together and collude, so I didn't cover that in my plan—I just don't think reputable business people ought to consider that option—but otherwise I knew the business had to change; I knew the business had to get better because it wasn't fair to call on stockholders to continue to fund a losing business. So we did what we needed to do at that point."
Here's another interesting snippet from the Sentinel report about the final days before the big shut-down, for which Anderson says "77 percent of all our associates were able to keep their jobs":
At the end of the month, his largest customer called and asked him to meet with a Time Inc. executive. On Saturday, Jan. 31, Anderson flew to New Jersey for the meeting. 'I negotiated with Time Inc. and I struck a deal and I shook hands and I went home,' he says.

The following Monday, the Time executive told him 'senior management had changed their mind and they've decided they weren't going to ship us any more magazines. At that point, a ripple effect happened and we lost 80 percent of our supply.

'So I went from Saturday afternoon thinking that I had saved the company to Monday afternoon saying the company is going to go out of business.'

Anderson called his father, who told him—and he imitates the voice of a stern father—'to get as many of our associates hired as possible.

'So I called our competitor [News Group]—who I had felt like had participated to help hurt us—and I said, 'I will sell you my assets if you employ my people.' I also agreed not to sue him for what they had done. He took the deal and hired most of our people.
Click here to read the full report. It's worth reading, when you have the time.
Also worth reading/re-reading are our reports. You'll find those in the related links below.