When advertisers aren't looking for a specific audience segment or a broad brand buy, they're in the market for something creative—a campaign that stretches across print, face-to-face and digital and leverages a brand's value proposition in a unique and useful way. Publishers have filled that void by forming marketing services divisions, but really what this comes down to is convening a variety of departments to build a program for a client that's able to meet customers on any platform they're on.
That's easier said than done, and many times, publishers fall flat when they attempt to transition from the pitch idea to execution. Here, we take a closer look at two programs created by The Knot and UBM's Electronics group that utilize a variety of platforms to maximize exposure and customer interaction through unique engagement elements.
The Knot: Promoting Utility and Authenticity
From an advertiser's perspective, there are few things to get more excited about than weddings. You can't have one without pulling out the credit card, which gave rise to a program that wedding specialists The Knot leveraged with Chase.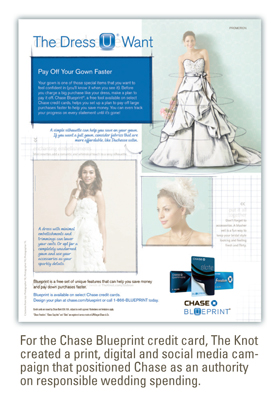 Central to the campaign was utility. Couples that are about to get married are essentially embarking on a spending spree and what better way to introduce an advertiser than during the highest spending stages of the process? Yet, for Carrie Reynolds, vice president of sales, branding alone wasn't enough. "We wanted to make sure this was focuses on delivering solutions for the customer in authentic ways," she says. "We looked at all the different places the customers were going to make their decisions and planned to connect with them during the highest-spending parts of these different stages—we wanted to integrate a conversation into those areas."
Chase was looking to promote its Blueprint brand of credit cards and needed a campaign that could showcase it as an authority on financial responsibility. "Like a lot of customers these days, they are looking for conversation and authenticity," says Reynolds.
Reynolds and her team crafted a program that included print, video and online elements that were attached to specific parts of the spending arc that wedding couples typically go through—the dress, reception, new home furnishings, baby room, and so on. "We pulled all those elements together and created a custom hub that housed them all—a video series, case studies, and so on—and each was focused on specific solutions," says Reynolds.
The content hub gathered the various elements together in one spot, but individually those assets were also spread across XO Group's brands—TheKnot.com, TheNest.com and TheBump.com. A custom video series, for example, appeared on all of the sites, and Twitter chats were created that featured conversations with financial experts and XO Group editors.
In print, Reynolds wanted to avoid the typical advertorial approach and devised a way for Chase content to interact with edit without actually integrating the two. While The Knot magazine acts as a source of inspiration, and the Chase content was printed on vellum inserts that layered messaging on top of the fall issue's content. One insert touts Chase Blueprint as a way to "Pay Off Your Gown Faster" and overlays a pictorial of wedding gowns.
Pricing these programs comes down to measuring production time along with the value of each media. "The way I look at it is production, people's time and the value of the media," says Reynolds. "It's pulling those elements together and the value of the media is based on impressions and how we're pushing it out. We don't do the 'if you by 12 pages we'll add this other stuff.'"
UBM: Taking It on the Open Road
Like all of these integrated campaigns, clients are looking for "big ideas." And in UBM's case, its client Avnet, an electronic component distribution company, wanted something big to help build awareness for its e-commerce group Avnet Express.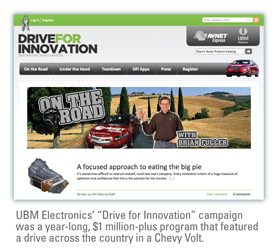 Big is what they got. UBM Electronics' creative services team, now called the Partner Services Group, came up with a year-long, cross-country road trip, during which EE Times editorial director Brian Fuller would drive a red Chevy Volt, making hundreds of stops along the way.
Called the "Drive for Innovation," the trip was the hook to hang a variety of custom program elements: Interviews with local media outlets; stops at Avnet office locations for interviews with key employees and Avnet supplier partners; a dedicated website that tracked Fuller's progress and housed all of the content he and others generated from the trip along with integrated social media components; video assets; newsletters; and sweepstakes. The car was featured at several UBM tradeshows and a fully formed PR campaign surrounded the entire project. The car also went through a thoroughly documented teardown to see how the Volt's technology works.
"You always start with a clean whiteboard and the sky's the limit, and then ultimately you refine those ideas down," says Christian Fahlen, UBM Electronics senior director of programs and delivery. "One of the undercurrents was celebrating innovation across America. We threw out some high-level ideas and the one that immediately grabbed everyone's attention was the road trip. This was the one that delivered on their objectives and had some merit from a content perspective."
With a program this big, execution had to be broken down into its functional units—support for the content team; website development and maintenance; a traffic-driving program; a PR strategy. "Those were the core functional units," says Fahlen. "On top of all that, we had overall program management and direction which included reporting and general overall accountability."
Teams gathered weekly for internal meetings and separate meetings with Avnet were also held weekly.
Measurement and Deliverables
Fahlen says deep reporting and metrics, particularly from the program's website hub, were provided to Avnet on an ongoing basis to make sure expectations were being met. But the key goal was moving the needle on brand awareness for Avnet Express. "We benchmarked that prior to the program, then midway and then post-program," says Fahlen. "We had to show that we did increase awareness, so research was a large component, as well as traffic to their site, engagement, and registrations at the website as well as Avnet Express's website. PR was another metric, too."
The price tag on a program like this is $1 million-plus, and that was arrived at by determining what was needed to spend on its development and then putting a budget behind it.
Nevertheless, a base program was built that met core expectations, but it also included add-ons for additional cost. "With programs of this scale, the client expects, and certainly receives, a breakdown of what each element costs," says Fahlen. "But inherently you have to give yourself and the client some flexibility. What looked great in June might not look so good by February."