Viral video is the most rapidly growing digital media platform for marketers, according to the Association of National Advertisers (ANA) 2012 Digital and Social Media Survey. Eighty percent of marketers are using video as a marketing channel in 2012 as compared with 64 percent a year ago.
Viral video use has been steadily increasing from 25 percent of marketers surveyed in 2007 to 80 percent surveyed in 2012. Companies with larger revenues are more likely to use viral video—95 percent of respondents whose companies earn more than $10 billion annually use viral video (compared to 75 percent surveyed whose companies earn less than $10 billion annually).
Although over the past five years social media and mobile marketing have become an important part of the marketing mix, ANA finds that use of these channels has plateaued during the past year. For mobile and social, Facebook is the marketer's go-to channel, at 96 percent. Twitter ranks second at 89 percent, LinkedIn third at 49 percent, and Pinterest joins the ranks of social media marketing channels this year at 33 percent.
Branded apps top the list of mobile platforms marketers are currently using (70 percent). This is followed by QR codes (67 percent), text adds (53 percent), non-video ads (41 percent), and video ads (25 percent).
Although the use of social media, mobile and online video have all grown significantly over the past five years, measuring ROI on all three platforms continues to challenge marketers. Marketers are particularly concerned about having the proper metrics to determine the right mix of traditional and digital media. Significantly, over half of the survey's respondents say there's a lack of understanding about digital media among key people within their organization.
Marketers are even more concerned about metrics and measuring ROI than they were last year. Sixty percent of those surveyed are currently measuring the effectiveness and ROI of their social media efforts.
Mobile marketing (70 percent) ranks the highest in terms of marketers' desire for measurement. However, only half of those surveyed say they are doing the same for online video marketing.
Nearly 90 percent of marketers have established processes for measuring the effectiveness of search engine marketing, email marketing, and online marketing, according to the report. However social metrics such as the number of Facebook "likes" or Twitter "re-tweets" were at the bottom of the list, with just 30 percent and 39 percent of marketers, respectively, finding them effective. Nevertheless, marketers are using these two metrics despite their apprehensions.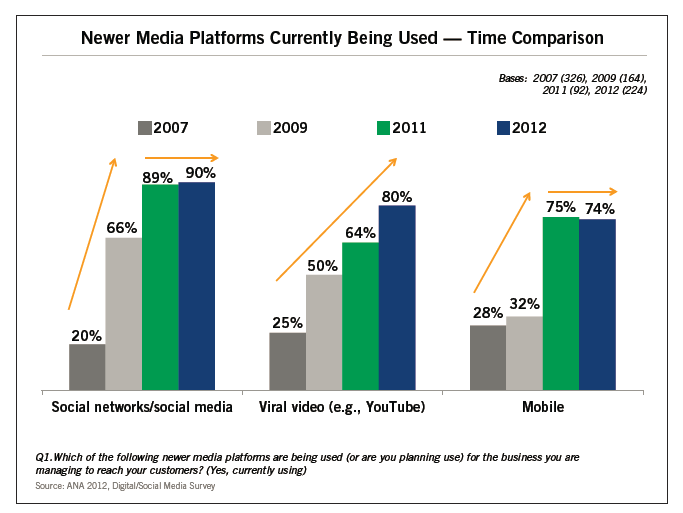 *Editor's Note: This story originally appears on FOLIO: sister site, minonline.com