Ana Marie Cox

Blogger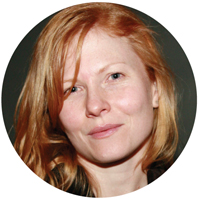 It was an interesting year for Ana Marie Cox in 2008. The ex-Wonkette-turned-Time political blogger, who rose in the ranks to become the Washington editor of Time.com, decamped for Radar in September to cover the election. When Radar folded for the third time in October, Cox was left with credentials to cover the campaign (she was embedded with the McCain camp) but no one to pay for her travels.
Undeterred, she launched an online pledge drive. (For $250, Cox would pose your question to a senior McCain advisor; for $1,000, you'd get a "post-election dinner debriefing.") Cox raised more than $8,000 "from total strangers amused by my not entirely straightforward political reporting," she says, and was able to cover the rest of the campaign for her personal blog.
That led to a regular column on the Daily Beast, Tina Brown's fledgling Web site, a gig as the national correspondent for Air America, the liberal radio network, and a guest spot on the Rachel Maddow Show on MSNBC.
But where Cox really shines is online, where she's perfectly suited for the frenetic pace of the Web while skewering the special interests of Washington.
Cox has promoted her reporting and commentary as its own media network, utilizing all of the requisite social media tools—Twitter, Facebook, YouTube, Pandora and Flickr.
More recently, she has experimented with an embeddable liveblog and chat feed for coverage of political events—including the inauguration and Proposition 8 hearings—and a personal podcast.
The Cox brand has carved out so much of a following that she received "a good seat assignment" at the first presidential news conference of the new Obama administration.
And, not surprisingly, Cox uses her access to mock White House and Senate briefings on her popular Twitter feed, which has more than 200,000 followers.
"Okay, am in," Cox wrote after a recent tussle with treasury secretary Timothy Geithner's publicist before a press conference. "I AM a 'News organization!'"
VITAL STATS: After Radar folded, Cox raised over $8,000 to stay embedded with the McCain campaign.
Meet the Author
---