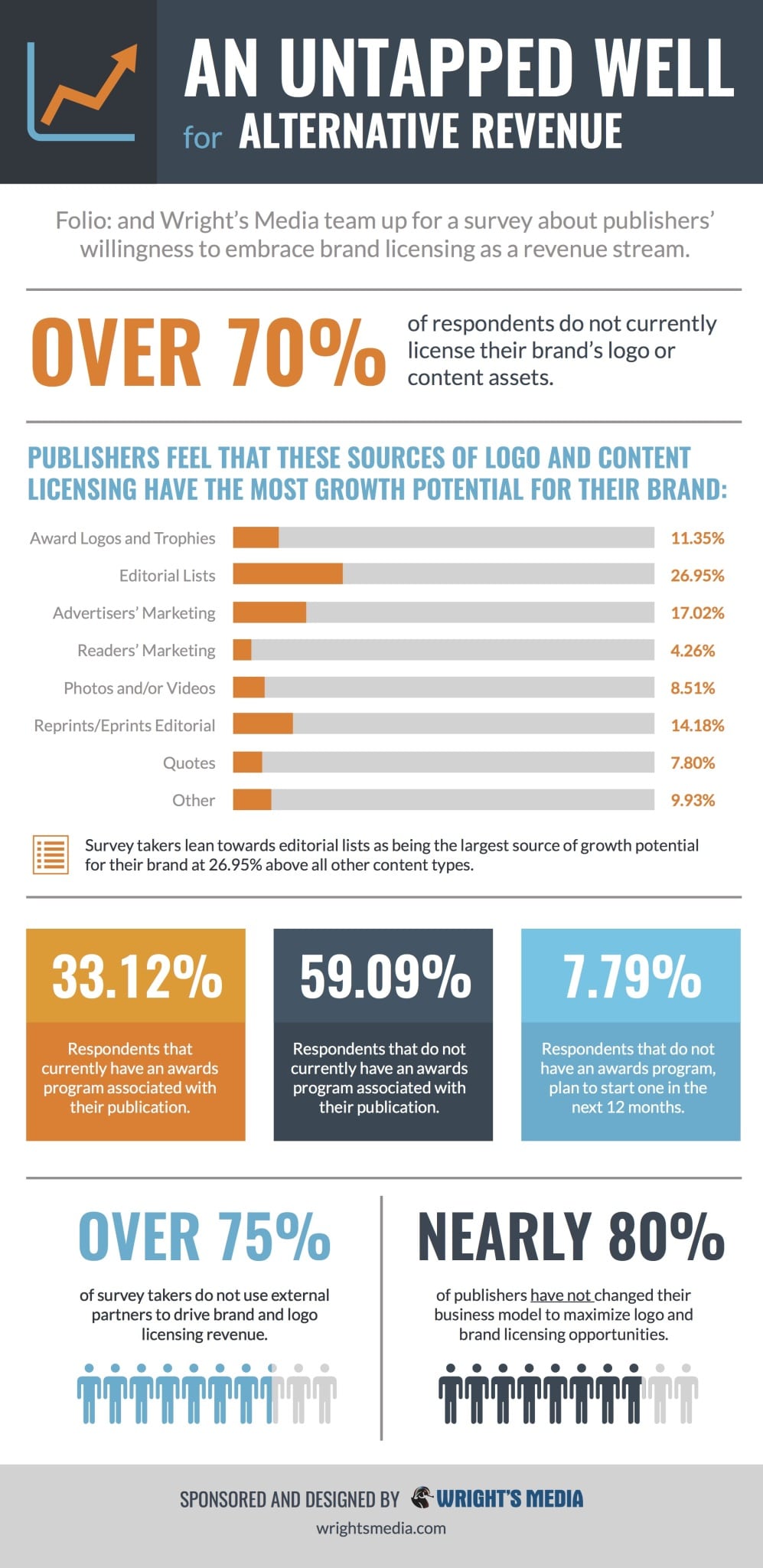 ---
A general acceptance of the idea that traditional revenue sources—print and digital advertising, newsstand sales, and subscriptions—alone may no longer be enough to float the boat has led publishers of all kinds to aggressively pursue alternative means of strengthening their bottom lines.
Live events, e-learning, e-commerce, and—for B2B publishers, especially—data and lead generation have seen widespread adoption across most sectors of the industry. But what if there's something else out there?
In the publishing world, brand or content licensing refers to the leasing of media assets or intellectual property to a third party, temporarily, for an agreed-upon fee. It can take a number of forms, from awards programs and editorial "best of" lists to reprints and logo licensing (the "Playboy Bunny" being a classic magazine media example).
To better understand publishers' awareness and understanding of brand licensing as a potential source of revenue growth, Folio: and Wright's Media teamed up to conduct a short survey of 261 media companies across the consumer, B2B, association, and city/regional magazine sectors.
The survey found that, by and large, publishers have yet to embrace brand licensing as a revenue stream—only 28.3 percent.
The stated factors behind that apprehension vary, according to the data. Some publishers simply do not understand what brand licensing is. Others fear that the potential costs are too insignificant to account for the resources required of a brand licensing program.
"We do not feel the potential income is significantly greater than the amount of revenue it would take to generate that income," writes one respondent.
Brian Kolb, COO at Wright's Media, says this is a common misconception among publishers.
"They believe they have to keep it all in-house and hire a staff to manage this type of program," he says. "Our partners understand that content licensing is an art form that we have spent years perfecting."
Indeed, more respondents (42) say they use an in-house team to monetize their logo and content than use external partners (34). Other respondents cite fears of a damaged brand reputation.
"Licensing the brand and logo would make it appear that we are 'selling out,'" writes another respondent.
Misgivings aside, it appears more media companies are pursuing brand licensing initiatives, even without a formal brand licensing strategy. Thirty-three percent claim to currently have an awards program associated with their publication, with another 7.8 percent saying they plan to in the next 12 months.
And yet, out of those 33.1 percent with an awards program, less than half monetize the awards logo and trophy in any way.
"Your brand has value," Kolb continues. "Every time your content assets or logo is given away for free, you are slowly chipping away the value that you've spent so much time creating."
Editorial lists—such as "best of," "top places to work," or "rising industry stars," to name some examples—make up the most commonly cited form of brand licensing that respondents feel has the most growth potential, at 26.9 percent. Advertisers' marketing communications comes in second, at 17.0 percent, followed by reprints/e-prints at 14.2 percent.
Among those respondents who say they have changed their business model in the last five years to maximize brand licensing opportunities, most have invested in more awards and recognition programs, although editorial lists, a dedicated internal licensing sales staff, and more conferences follow closely behind.
Still, those publishers who have changed their business model to embrace brand licensing remain a minority, at just 21.3 percent. "Publishers change their business models to keep up with the latest audience and technology changes, yet nearly 80 percent of respondents haven't changed their model to maximize revenue from content licensing," adds Kolb. "A well thought out licensing strategy doesn't create pennies in your pocket, it generates substantial revenue tied straight to your bottom line."
If there's a clear takeaway from the survey, it's that brand and content licensing remains a mostly untapped market for publishers. In a time when complacency can often lead to obsolescence, Kolb says it's worth considering, despite concerns over their own purported limited understanding or resources.
"When we start conversations about licensing content for publishers and creating revenue, often times we see that they have great content, a trusted brand, but they don't have the staff or know-how to put together a strategy to license their assets. That's where we come in."