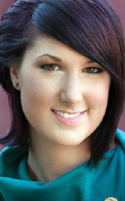 Editor, Publications
Association of Legal Administrators
Age: 29
Takeaway: Dvorak has made some big changes in ALA's publications group, overhauling Legal Management and relaunching ALA News as a daily newsletter.
In the rapidly changing world of publishing, the magazine model is sometimes shrouded by modern trends. For Amy Dvorak, though, the existing foundations are what allow her to constantly reinvent her publications. As editor, publications at the Association of Legal Administrators, Dvorak is responsible for the strategic development and management of content, design and production for ALA's publications.
After working at a law firm since the age of 15 and earning a degree in journalism, Dvorak joined the Association of Legal Administrators as editorial assistant. After a couple of years, she ascended to managing editor and subsequently to editor, publications two years later.
Last year, Dvorak became the driving force for the rebuild of ALA's publications. She overhauled the industry magazine, Legal Management, and ceased publication of the member-centric ALA News to replace it with a biweekly e-newsletter. "With the reinvention of Legal Management and the member-focused newsletter launch, we are realizing significant cost savings, are better elevating the profession and delivering more in terms of networking," Dvorak tells Folio:.
As a result of Dvorak's leadership, the magazine's advertorial content was eliminated, but vendor relationships "continue to cultivate by way of one transparent, educational article per issue and a personal Q&A spotlight." She has partnered with a new printer and has improved ALA's paper stock, page count and frequency.
"The law firm management field is one still striving to be recognized, and by exemplifying higher-level content strategy and thought leadership in Legal Management, we're building not only a stronger association, but a forward-looking, highly respected profession," says Dvorak.
She created a multi-channel marketing plan and tapped into chapter leaders to help spread excitement. Dvorak's spearheading of the overhauling initiative produced cost savings exceeding $100,000.