Amy DuBois Barnett

Editor-in-Chief, Ebony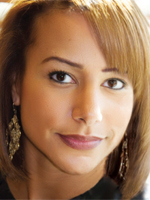 Takeaway: Barnett has increased newsstand sales and increased market shares in her segment.
When it comes to Amy Dubois Barnett's role as editor-in-chief at Ebony one word resonates for her—legacy. That is, Barnett admits that it's her brand's legacy and not her own that drives her to evolve the brand.
"It's very rare in your career that you get to touch an iconic brand, certainly not one that has the kind of historical, cultural and political importance of Ebony," Barnett says.
That said, Barnett isn't hanging her hat on pride and legacy. Ebony has increased newsstand sales in 2013, and she points out that her competitors are trending the opposite way. Not only that, but she redesigned the look and feel of Ebony and its digital products.
"When I first got to Johnson [Publishing] I was tasked with reinventing the Ebony brand to be compelling to a new demographic of readers," she says. "And so what I've done over the past few years is a top-to-bottom redesign of the magazine and a relaunch of the website."
Barnett says her overhaul was the first like it in the brand's 67-year history. But she isn't done yet. In 2014 Ebony will refresh its newly designed products because, as Barnett says, "like every good editor-in-chief, we're never done. You never redesign a magazine and sit back and smoke a cigar with your oxfords on the desk. I've been very antsy about the things I'd like to shift and change."
Meet the Author
---