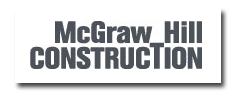 On the heels of an announcement late last month that McGraw-Hill Construction was expanding its Engineering News-Record Network into seven new regional markets, the company rolled out a restructuring this week that resulted in an undisclosed number of layoffs throughout the organization.
"The moves were taken to better meet the needs of our customers, take advantage of improved technology and processes, and position the business for growth in 2011," a company spokesperson says in an e-mail to FOLIO:.
The spokesperson declined to say how many people were let go, citing company policy to not disclose those numbers. One source, who wishes to remain anonymous, says as many as 2,000 jobs were affected by the restructuring. The company spokesperson, however, says that number is "completely inaccurate."
"Some people were walked out the door on Tuesday, while some have to stay to finish up the ongoing projects," the source says.
The spokesperson says no regional offices are closing as a result of the restructuring. McGraw-Hill Construction has locations all over the country, including New York City, Washington DC, Chicago and Atlanta.
McGraw-Hill Construction is mainly divided into four business units: Dodge, an analytics business, a digital lead generation business called Sweets and the media brands—including Architectural Record, GreenSource, Constructor and Engineering News-Record.
Late last month, the company said it was expanding ENR network into seven regional markets, including California, the Midwest, mountain states, the Southeast, Texas and New York. Starting with the January issue, the company says ENR will publish a total of 46 regional editions over the course of the year.
In a recent conversation with FOLIO:, McGraw-Hill Construction president Keith Fox talked about the cyclical downturn in the construction industry,  calling it a "tough market" over the last three or four years, particularly in commercial building.  But despite the challenging environment, Fox says he sees opportunity.
"As a data provider, as a media provider and as a company that provides intelligence to our customers, we're more essential than we've ever been. When you're competing in a difficult environment, you're going to grow through market share, through conversion and by being smart about how you manage your business. … We've been successful because our customers have seen that we're helping them drive business."
Fox declined to discuss the company's specific revenue breakdown other than to say the Dodge database is its "core" business.