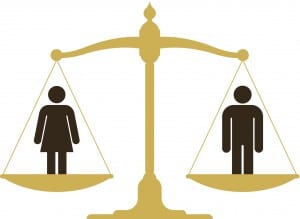 With a portfolio of trade publications serving the financial, technology, and healthcare sectors, SourceMedia is no stranger to crunching numbers. But as executives at the company watched the "Me Too" movement spark long-overdue conversations around deep-seated cultures of sexual harassment across entertainment, media, and politics, they were met with a growing sense that there was more their own brands could be doing to begin similar conversations in the industries they serve.
"The whole thing was taking place in industries that were, in effect, safely removed from financial services," says David Longobardi, executive VP and chief content officer at SourceMedia. "Anyone who follows financial services over the arc of time knows that there have been some ugly events. There was some sense that the reason we weren't seeing as many reports in financial services was because it was all better."
Sensing that this conclusion was far-removed from reality, Longobardi reached out to editors from two of the company's brands: Bonnie McGeer, executive editor of American Banker, and Chelsea Emery, editor-in-chief of Financial Planning.
"The first conversation was David calling me and asking me what we could do on this topic," McGeer tells Folio:. "It was decided that we could capitalize on our research capabilities to take our own look at these industries that we cover."
The result was a wide-ranging survey, written by Emery and McGeer and vetted by the company's VP of research, Dana Jackson, aimed at laying bare both the impact and the broader perceptions of sexual harassment in the professional workplace, as well as asking respondents to share their own experiences with harassment.
Both Longobardi and McGeer concede that it was an ambitious project, not only because of the sensitivity of the subject matter, but because there was no internal precedent for a study that spanned all of the individual sectors—or communities, as SourceMedia calls them—its publications serve.
"Right away that increased the degree of difficulty in terms of execution," says Longobardi.
Aware that a study of this magnitude required large samples to imbue the eventual findings with a true sense of validity, and fearing that respondents might be scared off if asked to provide too much personal information or first-hand accounts up front, the team had to think very carefully about how the survey was structured.
McGeer says the initial draft of the survey had too many questions, and that Jackson worked with the team to pare down the amount of personal information asked of respondents and include highly specific definitions of the various terms used.
"Not everyone has an HR understanding of what constitutes sexual harassment from a legal perspective, so we wanted to be very clear about the kinds of behavior that we were looking at," adds McGeer. "Throughout the survey, there were explanations and clarifications so that we could get the most accurate data possible."
There was also concern that—given the fact that most of the communities SourceMedia serves remain male-dominated—men would be reluctant or disinterested in taking the survey. In the end, those fears proved to be unfounded.
Distributed to readers in February and March, the survey was completed more than 3,000 times—a pool of respondents that Longobardi says accurately reflected the demographics of the industries SourceMedia serves and far exceeded the company's expectations. Not only were readers completing the survey from beginning to end, many were filling out free-response forms and even providing email addresses to be interviewed by reporters about their experiences.
"Our readers have a very strong personal connection to their professions, so when they respond to a survey from us, they have their work hats on," he says. "It's almost visceral. Their answers have a lot of specificity and immediacy."
---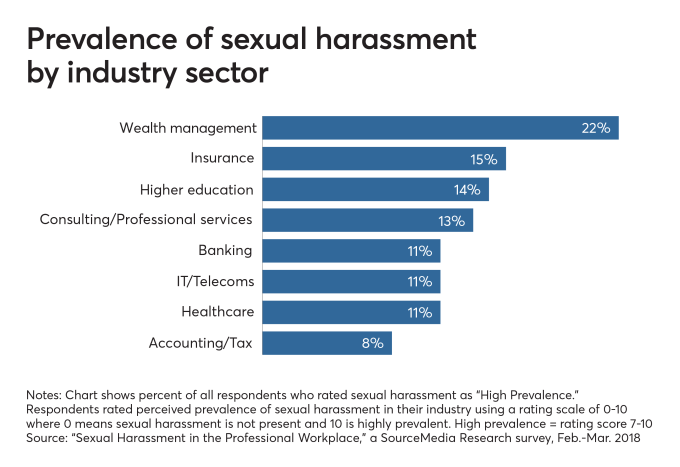 ---
Less uplifting, however, were the survey's findings.
Sixty-three percent of women and 51 percent of men who responded to the survey reported that they had personally witnessed sexual harassment in the professional workplace. Twenty-nine percent of women said they had personally been subject to sexual harassment, with employees at smaller companies reporting higher degrees of prevalence than those at larger firms. In the wealth management and financial advisory sector alone, more than one-fifth of respondents assessed the issue of sexual harassment as "highly prevalent" in their industry.
In a finding that, all by itself, seems to justify SourceMedia's decision to conduct the study, fewer than half of respondents indicated that they felt sexual harassment was at least "usually" handled fairly by organizations in their industry.
"We were sobered by the results," says Longobardi. "I think we expected—or hoped for—not just a little less prevalence, but a little less cynicism."
Armed with a robust and wholly proprietary data set, the next step was allowing both the company's centralized research team and its various editorial teams to dig into the findings and begin testing hypotheses around which to produce content. Longobardi describes the strategy as the best of both worlds—providing SourceMedia's communities with both a high-level perspective on financial services while also allowing individual brands to report on the findings in relevant and audience-specific ways.
---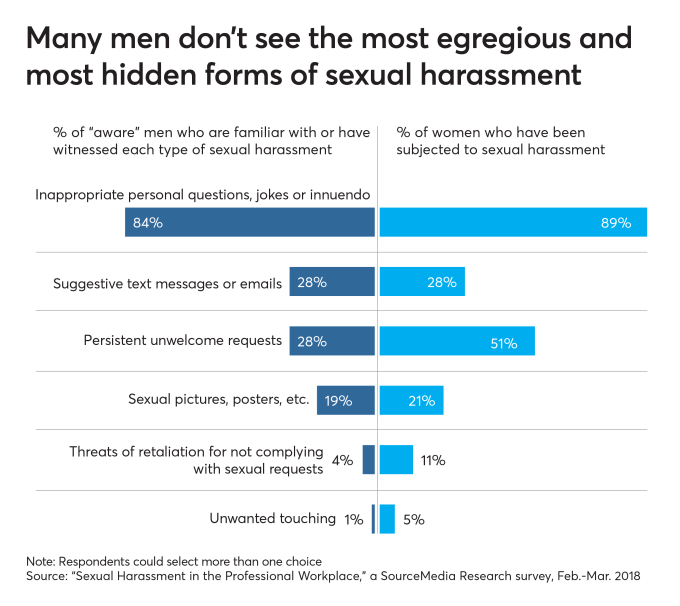 ---
"There was great excitement internally," he continues. "Once each reporter got going, they had agency to structure their piece in a way that made sense for each community. Each reporter's specific knowledge of the vertical community that they cover brought another level of insight and relevance to our analysis."
McGeer says the company had a basic plan in place to produce stories around both the study's top-line results and deep dives in each community, but that the sheer volume of the data was staggering. Thankfully, she says, Jackson's team built an analytics dashboard to help editors slice and filter the data across each sector.
"When you do a big research project, a lot of times you're just looking at a big Excel spreadsheet," she says. "The dashboard that Dana built was so helpful for processing the data."
Content was produced in waves, the first of which was released on March 12. Longobardi says the project blew its first self-imposed deadline, requiring an extra two weeks to ensure that everything was right. Dozens of stories based on the findings have since proliferated across SourceMedia's brands, and McGeer emphasizes that the project is an ongoing one, aimed to make a difference primarily by bringing to the forefront conversations that previously occurred only in private.
---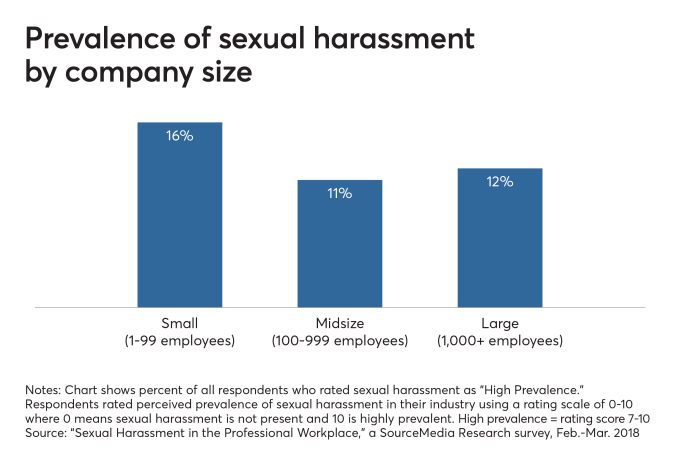 ---
"They talk about women having this whisper network to help protect each other, but because of legal reasons or other factors, companies often keep things quiet, and it perpetuates the problem."
Longobardi sees it as another step in an ongoing mission for the company that he hopes has always been perceived as one which cares about women in the workplace.
"We want our content to be important, we want it to be relevant, and we want it to be useful," he adds. "That's our mission, and that's what this content is."
While no plans are in place as of yet to repeat the study in the future to gauge whether things have changed, McGeer acknowledges that financial services has a long way to go, invoking in particular the firsthand accounts given by some of the respondents who had agreed to be interviewed by a reporter for American Banker.
"When these women were telling their stories, they were often offering up mitigating circumstances and making apologies," McGeer tells Folio:. "It was surprising to hear that women still felt like they were the ones that needed to apologize in some way. We're talking about really accomplished women who are having a lot of professional success, and yet somehow they feel like they need to apologize for their own stories. There's still this stigma or embarrassment around behavior that is not ours."