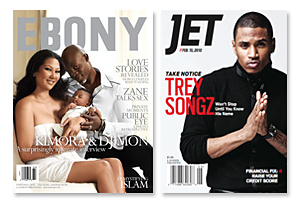 In the face of a difficult magazine market last year, Chicago-based Johnson Publishing has revamped the editorial brand strategies at Ebony and Jet magazines in an effort to attract new, younger audiences as well as to position the company as the go-to source for news and entertainment with a "unique black point-of view."
Late last year, Johnson said it was making "fundamental changes" to Ebony as part of a brand relaunch campaign. Those changes, including a new focus on multiplatform content creation, were effective with Ebony's December/January issue.
Now, this week, Johnson announced a new editorial brand strategy at Jet, the 900,000-circ. weekly. Among the changes are a new logo, design and layout, new sections and features, and enhanced coverage of money, sports and style.
"The changes you are now seeing have long been in the making," editor-in-chief Mira Lowe told FOLIO:. "While weathering a choppy economy, we decided to institute strategies that would maintain and strengthen our position in the industry. We want to keep our iconic brands viable and relevant in an evolving media market."
In 2009, Jet magazine saw ad pages fall 35.5 percent compared to 2008. Ebony's year was even worse, with pages plummeting 38.9 percent from the prior year.
Lowe said Johnson's goals in making the changes at Ebony and Jet are to "continue to engage core readers" and advertisers while attracting a new, potentially younger audience and stable of advertisers.
Johnson said it isn't changing Ebony or Jet's frequencies of circulations as part of the rebranding efforts. "Like many other publications, Ebony and Jet were not alone last year in seeing a drop in ad revenues due to the tight economy," Lowe said. "We are implementing these strategies to help grow the business across multiple platforms."