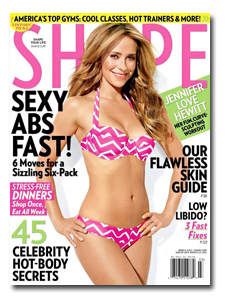 American Media, Inc.'s 2013 fiscal third quarter showed mixed results, according to recent company financials. Revenues dropped three percent in the quarter to $85 million. During its fiscal nine months ending December 31, 2012, revenue fell by eight percent, or $24 million, to $262 million.
Adjusted 2013 EBITDA, however, was $26 million—a 22 percent increase from the third quarter of fiscal 2012.

CEO David Pecker says the declines in revenue for the quarter were due to general market weakness, a shift in ad spend to the Olympics and Superstorm Sandy.
Pecker said in an earnings call on Thursday that as a result of the storm, there was "delayed media planning and time sensitive promotions and programs [were] cancelled. In addition, AMI's weekly celebrity newsstand titles in the mid-Atlantic and Northeast regions were impacted due to thousands of stores being forced to close."
AMI also relocated hundreds of employees across eight offices because of the storm, resulting in a total impact of $4 million on earnings.
Unfortunately for AMI and many other publishers, the storm ended up exacerbating an already-tough environment.
"For calendar year 2012, the consumer magazine advertising market was down eight percent versus the prior year," said Pecker. "This along with the storm impacted AMI's third quarter advertising revenue, which was down $2.2 million or 9 percent."
The eight percent decline in revenue for the nine months that ended December 31, 2012 was also due to advertising impacts as well as a circulation revenue decline of about $4.5 million, with the majority coming from discontinued titles.

Changing Direction
While there were several hits for the company, Pecker laid out plans for growth for the rest of 2013 and beyond.
"Shape's new editorial direction, our investment in paper and book size, our social trade advertising campaign and a completely new sales staff has successfully turned the magazine around," he said. "After nine consecutive months of year-over-year declines, the January/February issue's ad revenue was up eight percent versus prior year and the March issue will be up 29 percent."
Several new advertisers have signed on with the brand, both in print and digitally, generating upwards of $3 million. With almost 20 percent of its online traffic coming from mobile, digital revenue for Shape is up 40 percent to $3 million for the nine months versus the prior year.
"Digitally, Shape.com saw a 250 percent increase in unique visitors in one year—we went from 2 million in January of 2012 to over 7 million in January of 2013—making it the fastest growing site in the sector," he said.
In addition to gains for Shape, Pecker says the company is working to develop a Shape fitness television show, and will bring in a "major addition to the editorial team" of Muscle & Fitness in the coming weeks. Digitally, MensFitness.com was 400 percent year-over-year in unique visitors to 3 million, page views jumped 300 percent and digital revenue for the nine-month period is up almost 50 percent to $1 million versus the same time last year.
Stay updated on the latest FOLIO: news, follow us on Facebook & Twitter!