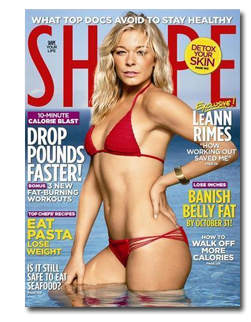 Star magazine and National Enquirer publisher American Media Inc. officially filed its pre-packaged Chapter 11 bankruptcy plan today in the U.S. Bankruptcy Court for the Southern District of New York. The restructuring petition was agreed upon by bondholders holding more than 75 percent of the company's bond debt and secured lenders holding more than 70 percent of its bank debt.
AMI was a bit more specific about the breakdown in a statement announcing the filing:
The Prepackaged Plan, which has been approved by the majority of creditors entitled to vote on the Prepackaged Plan, contemplates that, among other things, holders of secured term facility claims will receive a combination of cash and new second lien notes; holders of secured revolver claims will be paid in full; holders of subordinated notes will receive stock in the reorganized Company; and holders of trade claims will be paid in full.
UPDATE: According to the bankruptcy filing, AMI's debt structure following court confirmation will include a $385
million first lien loan and up to $140 million in second-lien loans. It
also calls for a new $40 million revolving credit facility.
The filing also indicates that AMI claims between $0 and $50,000 in assets but carries between $500 million and $1 billion in liabilities. The documents say AMI has up to 49 creditors. Among the largest are Wilmington Trust and HSBC Bank. Magazine industry companies named as debtors include: RR Donnelley, Quad Graphics, Source Interlink Media and Trend Offset Printing Services.
  
In addition to the main petition, AMI also filed a handful of motions requesting a number of things, among them: to continue employee wage and benefits programs; to honor current customer programs without interruption; and to pay creditors in the "ordinary course of business."  AMI says it does not intend to seek debtor-in-possession financing.
AMI announced earlier this month that it was moving toward filing a pre-packaged bankruptcy plan that would "significantly de-lever" its balance sheet. The company says it expects to emerge from the process within 60 days.
Earlier today, it was reported that Valerie Latona, the editor of AMI's Shape magazine, is no longer with the magazine. Latona, who came under fire after a recent cover story featuring singer LeAnn Rimes, will be replaced by Star beauty and fashion director Tara Kraft.