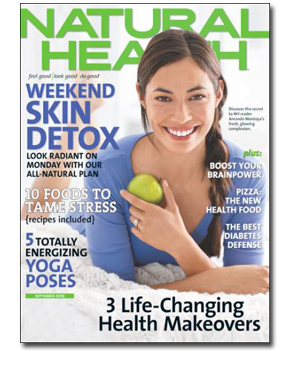 Amidst recent news that American Media, Inc. reduced the frequency of Natural Health to eight times a year from 10 and suspended the publication of Mom & Baby (in order to increase focus on Fit Pregnancy), the company has announced the creation of the Healthy Lifestage Group, which will bring Fit Pregnancy and Natural Health under one umbrella.
The realignment will bring Natural Health's headquarters back to California after being in New York City for three years. Fit Pregnancy's Woodland Hills-based staff will now produce the title with a few new key hires forthcoming. Beauty and health editor Olessa Pindak will be the only NYC-based employee to remain with Natural Health and will continue to work for both titles in the group.
According to Peg Moline, editor-in-chief of Fit Pregnancy and Natural Health, the decision to bring the two titles under one group makes perfect sense economically as well as editorially. "Bringing Natural Health back to California made sense because when we moved our staff to New York, we ended up doing most of our shoots in California anyway," she told AD. "And when [CEO] David Pecker decided make this change, we realized that both titles were about women wanting to take charge of their health. When you're pregnant, you all of a sudden become aware of what goes into your body and what is going on in the environment. That's where Fit Pregnancy comes in. And as for the readers of Natural Health, these women have already made a commitment to making healthy changes in their lives."
Publisher Jeff Christian says that combining the sales staffs from both titles makes sense from a business standpoint. "It's about synergy and efficiency," he said. "A lot of the brands that advertise in these titles cross over because they are speaking to women of a specific mindset whether they're young moms in their late twenties or older moms with tweens in the household."
In addition to staff changes, Natural Health, which has seen its ad pages through July decrease by 16 percent, will also see some editorial and visual changes. Moline said that the staff of Natural Health-who's tagline is "Feel Good, Look Good, Do Good"-will further enhance the "Do Good" part with a new department called "Bio-Action," which will profile various causes and charities. Relationship, sex, family and home topics will also receive more coverage.
Visually, Moline said, Natural Health will take on the "exuberance" that Fit Pregnancy currently possesses. "If you look at Fit Pregnancy, we've been committed to showing what pregnancy can really look like," she said. "Rather than appearing dowdy, we've shown women looking really joyful and happy. We want to apply the same principles for Natural Health."
Fit Pregnancy and Natural Health will each keep their current rate bases of 500,00 and 300,000, respectively.