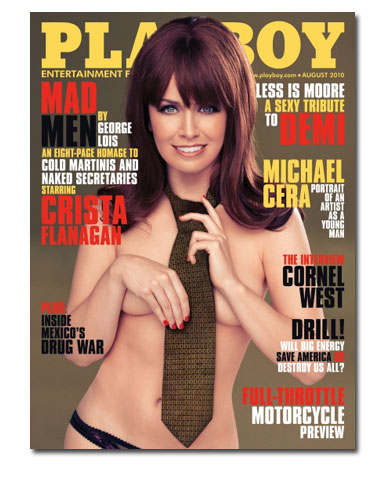 Earlier this week, Star magazine publisher American Media Inc. announced its intention to file a pre-packaged bankruptcy plan, as soon as it gets the required number of bondholders to approve. The company did not indicate how much debt it intends to eliminate in the process but said it would aim to emerge from Chapter 11 within 60 days.
In making the announcement, AMI chairman and CEO David Pecker said the bankruptcy process should not affect American Media's operations, and that its publications "will function seamlessly, staff will be unaffected by the reorganization and customers should not notice any difference."
One of those customers/publications is Playboy magazine. Last November, Playboy Enterprises agreed to farm out the magazine's advertising sales, circulation, marketing, production and all other business operations to AMI. Under terms of the contract, AMI said at the time that it would be paid "potential fees" in the range of $5 million for advertising, circulation, production and related services. This, the company said, would result in profitability of approximately $2 million.
According to a spokesperson for Playboy, AMI's pending bankruptcy filing does not jeopardize its agreement with Playboy. "We are pleased with our existing relationship, and we don't think that these financial proceedings will have any impact on our agreement," the spokesperson says.
Through the first half, Playboy Enterprises reported that the magazine generated $17.3 million in revenue domestically through the first half (down from $29.9 million during last year's period) while digital pulled in $16.5 million, down slightly from $18.2 million. The company overall realized a $6.4 million net loss. (Playboy is expected to report third quarter revenues on November 9.)
In addition to Star, AMI publishes several magazines including Country Weekly, Men's Fitness, Shape and the National Enquirer.