AmericanRifleman.com

Eddie Winner: Best Web Site, Association/Non-Profit, Circ. 6x+/yr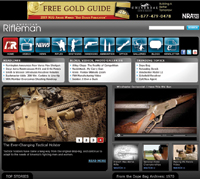 At just 18 months old, AmericanRifleman.com has won an Eddie for Best Web Site Content. It's also stepping out of the shadow of its 125-year-old companion magazine, American Rifleman, to present a more accessible face of the National Rifle Association.
While American Rifleman goes to nearly half of the NRA's 4 million members, the goal of AmericanRifleman.com is to reach beyond the NRA's membership (the site does not feature a member ID restriction). "We want viewers to be able to share our content with as many people as possible and promote the positive side of the shooting sports," says Ann Smith, editor-in-chief of NRA E-Media.
The Web site eschews much of the political content that fills the magazine and instead focuses on the consumer side and training component of the industry. While magazine articles are often re-purposed to the Web site, some of the most popular areas of the site include original content in the Photo Gallery and Video Channels. Highlights of the past year include the "Eight Awesomely Bad Shooting Tips" and "Coolest Movie Guns" galleries. "This was lighthearted fare that viewers had some fun with and could really engage in conversation with our 'comments' tool," says Smith.
Much of the content on AmericanRifleman.com enjoys a long tail of building readership over time, with articles such as its "A Look Back" series (which includes subjects such as "The History of the .357 Magnum").
The site generates about 600,000 pageviews a month and Smith says she wants to double that by this time next year with a new focus on social media.
"We have no way of knowing whether our visitors are NRA members, but we hope that if they are not members, they will join. We offer a direct link to the NRA member sign-up page on the site, where viewers can learn about all of the benefits of NRA membership," says Smith.
Meet the Author
---